Insured losses for California wildfires "US$2-3bn": AIR
Written by staff reporter
2017-10-27
Cat modelling firm AIR Worldwide estimates that industry insured losses from the California wildfires will be between US$2bn and US$3bn. AIR's loss estimates explicitly capture residential, mobile home, commercial, and automobile losses, as well as direct BI losses.

Multiple wildfires exacerbated by hot, dry, and windy conditions spread across eight counties of California starting in early October. Twenty-two active wildfires were reported by CAL FIRE on October 12, consuming more than 170,000 acres and destroying more than 3,500 structures. Winds moderated by October 16, which enabled firefighters to make progress toward containing the 15 wildfires still active across California; more than 217,000 acres had burned, and approximately 5,700 structures had been destroyed. Of the 100,000 people evacuated throughout this event, an estimated 500 remain displaced.

As of Wednesday, October 25, nine wildfires were still burning in California, including the Vista Fire near Casitas Springs that erupted on Tuesday, October 24. The Church Fire that broke out in San Diego County on Saturday, October 21, was fully contained as of Tuesday, October 24. CAL FIRE expects many of the active fires will be fully contained by the end of the week. In total, more than 245,000 acres have burned, an estimated 8,700 structures have been destroyed. Thousands of acres have burned in Yuba, Sonoma, Napa, Lake, Mendocino, Butte, Nevada, and Solano counties, which were heavily impacted by the fires.

Analysis from AIR shows that losses will be dominated by residential losses, with several neighborhoods—most notably, in Sonoma County—experiencing catastrophic loss. These estimates of insured losses are based on the assumption of nearly 100% take-up rates. The fact that damage from fire, including wildfire, is included in standard homeowners' policies in California informs that assumption. The range in AIR's loss estimates reflects uncertainty in the payment of additional living expenses resulting from mandatory evacuation of the city's population, loss of some individual structures outside of the most affected neighborhoods, as well as widespread but lower levels of loss due to smoke, loss of electricity, and damage from suppression efforts.

Loss estimates were derived from AIR's own California wildfire model and are based on exposures as of 31st December 2016.
Related Articles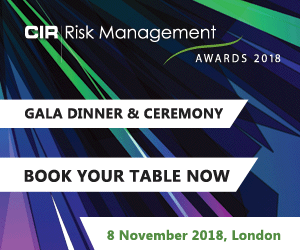 Download the latest
digital edition of
CIR Magazine
Power transmission and distribution risk
Description
Mark Evans talks to Barry Menzies, head of MIDEL ester-based dielectric fluids, at specialist manufacturer M&I Materials, to discover how ester fluids can help reduce the risks associated with transformer applications.
Most read stories...