Hurricane Maria takes aim at Puerto Rico
Written by staff reporter
2017-09-20
Hurricane Maria took direct aim at Puerto Rico on Wednesday thrashing some islands already left in ruins by Hurricane Irma, and razing areas that had previously escaped damage.

According to AIR Worldwide, this is Puerto Rico's first direct landfall from a Category 4 storm in 85 years since the notorious 1932 San Ciprian storm. Maria's winds are causing widespread and severe damage, reportedly ripping roofs and nonstructural elements from buildings and launching debris left from Irma's destructive rampage the week before. Maria brought a storm surge of 6 – 9 feet to Puerto Rico, and is inundating the country with between 12-18 inches of rain, with isolated amounts of up to 25 inches.

Dominica received the brunt of Maria's Category 5 winds on Monday night. The Caribbean Disaster Emergency Management Agency reports an estimated 70 to 80% damage to the building stock, as well as damage to the hospital, roads, and bridges.

Hurricane-force winds across the U.S. Virgin Islands and Puerto Rico caused widespread power outages. Reported impacts include damage to buildings such as broken windows, doors and roofs flying off, and damage from flying debris.

The British Virgin Islands are still under a hurricane watch, and are braced for flooding from heavy rain, and 7 -11 ft. storm surge.

AIR Worldwide says it is still too soon for the full extent of damage to be known, but it is clear that there has been widespread damage to buildings and infrastructure, and some roads are blocked by downed trees and power lines. There were reports of metal roofs flying and windows breaking even before dawn as the storm was heading to make landfall. Currently more than 900,000 people are without power, including some who remained without power from Irma's passage.

River levels are approaching or exceeding record levels across Puerto Rico, according to data from the US Geological Survey. Flooding from lashing rain is widespread, and several Puerto Rico municipalities along Rio La Plata are under severe flash flood warnings. Widespread flooding was reported in the capital of San Juan.

Many residents and tourists had been evacuated to Puerto Rico from other islands, and are now bearing the brunt of yet another storm. Puerto Rico had provided shelter and medical attention to thousands of evacuees from other islands devastated by Irma, particularly from badly damaged St. Thomas. Over 10,000 are sheltering in the Puerto Rico Convention Center and other designated shelters.

The widespread devastation caused by Hurricane Maria could compound the difficulties involved in the recovery process from both these disasters. Tourism -- particularly deriving from Puerto Rico's recent growth as a business conference and event destination -- is expected to be impacted for an unknown length of time.

Although its intensity is likely to fluctuate over the next few days, Maria is forecast to remain a Category 4 or stronger hurricane as it draws closer to the Dominican Republic. A hurricane warning remains in effect for the U.S. Virgin Islands, British Virgin Islands, Puerto Rico, Culebra, and Vieques, the Dominican Republic, Turks and Caicos Islands, and the Southeastern Bahamas. These areas will face wind hazards, storm surge 7-11 feet, and heavy rainfall.
Related Articles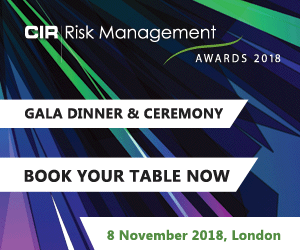 Download the latest
digital edition of
CIR Magazine
Power transmission and distribution risk
Description
Mark Evans talks to Barry Menzies, head of MIDEL ester-based dielectric fluids, at specialist manufacturer M&I Materials, to discover how ester fluids can help reduce the risks associated with transformer applications.
Most read stories...