Hurricane Joaquin intensifies
Written by staff reporter
2015-10-02
Hurricane Joaquin is battering parts of the Caribbean with Cat 4 strength winds and is likely to drive coastal flooding and heavy rainfall along the eastern US coastline, before weakening to tropical storm strength.

"Hurricane Joaquin is reminiscent of Hurricane Irene (2011), which impacted the Central Bahamas as a Category 3 hurricane," said Scott Stransky, manager and principal scientist at catastrophe modelling firm AIR Worldwide. "Although roof damage was prevalent as a result of that storm, there was very little structural damage due to the well-built properties in the Bahamas. Irene tracked west of several islands including Abaco Island, which contains the third highest insured property value after New Providence and Grand Bahama. Irene's large size meant that almost all of the Bahamas was subject to strong winds for more than a day. AIR conducted a damage survey in the Bahamian islands of New Providence, Eleuthera, Abaco, and Green Turtle Cay following Irene. As expected, wind damage to well built concrete structures was limited to roofs, while less prevalent wooden structures suffered more substantial damage. Commercial properties suffered significant damage to signage."

"One of the lessons learned from Irene was that, while the take-up rates in New Providence Island (Nassau) and Grand Bahama Island (Freeport) are high, the take-up rates on other islands of the Bahamas -- which are currently being impacted by Joaquin -- are quite low. This should help limit insured losses.  In 1999, Hurricane Floyd battered the northwestern Bahamas with Category 3/Category 4 winds, causing widespread damage and disruption to several islands. Like Irene, Hurricane Floyd was a very large storm with tropical storm force winds extending some 580 miles across. In contrast to Hurricane Irene, however, Floyd passed to the east of the islands, meaning that its strongest winds on the right side of the storm remained over water."

The Bahamas was among the first Caribbean territories to adopt building codes. The Bahamas Building Code, which was implemented in the early 1970s, closely follows that of the South Florida Code. The enforcement of the Bahamas Building Code is very stringent, which helps limit severe structural damage.

According to AIR, most houses in the Bahamas are of concrete block or poured concrete construction, although unreinforced masonry and timber construction are also used. Roofs are usually covered with asphalted wooden roof tiles, although corrugated iron and aluminum roofs and Spanish tile are not uncommon. Most residential dwellings are single-story, while commercial buildings can be mid- or high-rise.

When subjected to Category 4 wind speeds, non-engineered structures can experience destructive damage to roof and wall components, and light metal structures can experience severe structural damage. Structures can sustain severe non-structural damage and unprotected windows may be damaged by flying debris.

Additionally, Category 4 winds may cause widespread severe damage to signage, trees, and poles. Business interruption losses may also be significant, due to both direct physical damage to hotels and resorts, and damage to supporting utilities.
Related Articles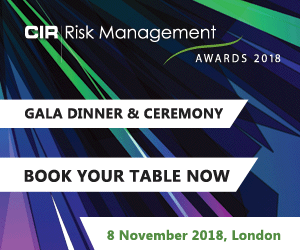 Download the latest
digital edition of
CIR Magazine
Power transmission and distribution risk
Description
Mark Evans talks to Barry Menzies, head of MIDEL ester-based dielectric fluids, at specialist manufacturer M&I Materials, to discover how ester fluids can help reduce the risks associated with transformer applications.
Most read stories...