Hurricane Irma devastates Caribbean, heads to Florida
Written by staff reporter
2017-09-08
Hurricane Irma, one of the most powerful Atlantic tropical cyclones on record, has devastated a string of Caribbean islands and is currently impacting the Dominican Republic and Haiti, and is forecast to turn northward on Saturday towards Florida.

Cat modellers at AIR have said that by every measure, the cat 5 hurricane is a huge and powerful storm system; its 300-mile diameter is twice as wide as Florida and is roughly equivalent to the area of the state. At its peak, it sustained 185 mph winds for 36 hours, and has maintained intensity above 180 mph longer than any storm in Atlantic history.

According to AIR, most commercial structures in the Caribbean are low- to mid-rise, comprising one to six stories. Small apartments, hotels, offices, and other low-rise commercial properties are usually masonry, or reinforced or block concrete. As with residential buildings, there is regional variability. Across the Caribbean, there is a wide range in building code type, use, and enforcement.

For the smaller Caribbean islands, such as the Bahamas and all the Leeward and Windward Islands, the majority of the exposures are on the coast. On the larger islands, however, some inland cities can also face significant hurricane risk, especially from precipitation-induced flooding. Because of Irma's size and intensity, damage is likely to occur across a wider zone than with more typical hurricanes and may be more akin to that from a tornado in some places.

Hurricane Irma has left a trail of catastrophic devastation in its wake. In Barbuda, 90% of structures are reportedly destroyed and half of the population of 1,800 has been rendered homeless. Major damage to homes and infrastructure has also been reported in Anguilla. In St. Martin, 95% of structures have been destroyed, according to a local official. Significant damage to homes, businesses, and infrastructure has been reported in the British Virgin, and a State of Emergency has been declared in the U.S. Virgin islands. Puerto Rico experienced flash flooding and widespread power outages after Irma passed just north of the island on the afternoon and evening of Wednesday, September 6.

Irma is forecast to begin a fairly sharp turn northward late Saturday, making an initial landfall in the Upper Keys as a strong Cat 4 hurricane early Sunday morning. AIR does not anticipate further significant interaction with land before this expected landfall in South Florida.
Related Articles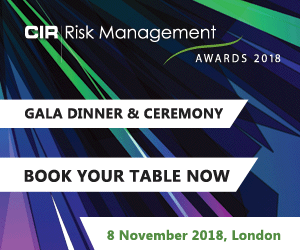 Download the latest
digital edition of
CIR Magazine
Power transmission and distribution risk
Description
Mark Evans talks to Barry Menzies, head of MIDEL ester-based dielectric fluids, at specialist manufacturer M&I Materials, to discover how ester fluids can help reduce the risks associated with transformer applications.
Most read stories...