Hiscox and Symantec in cyber partnership
Written by staff reporter
2017-10-30
Specialist insurer Hiscox and cyber security company Symantec have partnered to offer a software and insurance solution to protect and support small businesses as the threat of cyber crime continues to evolve. The Complete Cyber offering has been designed to provide a combination of insurance, software and 24/7 technical support designed to address the specific needs of small businesses and the multi-faceted threats they face conducting business in the digital world.

Lead cyber underwriter at Hiscox UK and Ireland, Stephen Ridley, says that as the risks posed by cyber criminals continue to evolve, knowing how to protect a business can be a challenge. "It's vital that all businesses are proactive in protecting themselves against cyber crime and ensuring they have the people, processes and protection in place to deal with the consequences if they do suffer an attack. For smaller enterprises in particular, this can often be a challenge, which is why we've teamed up with Symantec to bring these core capabilities together in one package," he advises.

According to Hiscox's latest Cyber Readiness Report, almost half (48%) of small or medium sized businesses (those with under 250 employees) in the UK suffered one or more cyber attacks last year costing an average of £29,000 in business disruption, fines, compensation and loss of revenue or assets. Despite this, analysis highlights worryingly low uptake in basic security measures, particularly amongst smaller traders (those with 30 employees or less). Amongst this audience, as few as 64% back-up critical data; 61% have network firewalls; 52% use paid-for internet security; only 50% update passwords every three months; and just 43% have credit card payment protection in place. The same report suggests that just 32% have data breach actions plans in place.

Further market insight from Symantec highlights a general rise in cyber crime globally, with more than one million new malware variants detected each day. The growing use of email as an infection point is now the weapon of choice for cyber-criminals, with one in every 131 emails containing a malicious link or attachment – the highest rate in five years. Overall, the UK remains the seventh highest country globally (and third in Europe) in terms of source of cyber attacks, after the US, China and Russia.
Related Articles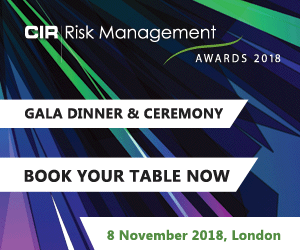 Download the latest
digital edition of
CIR Magazine
Power transmission and distribution risk
Description
Mark Evans talks to Barry Menzies, head of MIDEL ester-based dielectric fluids, at specialist manufacturer M&I Materials, to discover how ester fluids can help reduce the risks associated with transformer applications.
Most read stories...