H1 cat losses significantly lower y-o-y
Written by staff reporter
2017-08-17
Preliminary estimates for the first half of 2017 from Swiss Re suggest that catastrophes caused global total economic losses of some US$44bn – significantly less than the US$117bn in losses for the same period last year.

Of the total losses in the first half 2017, US$23bn were covered by insurance. A series of severe thunderstorms in the US caused some of the largest losses in the first half of 2017. Globally, around 4,400 people lost their lives or went missing in disaster events, compared with 4,800 in the first six months of 2016.

Of the US$44bn total global economic losses, natural catastrophes alone accounted for US$41bn in the first half of 2017, compared with US$110bn in H1 2016, while the remaining US$3bn came from man-made disasters. Global insured losses from natural catastrophes fell to US$20bn from US$30bn the year before, while insured losses from man-made disasters were US$3bn, down from US$6bn. The number of victims of disaster events was around 4,400, which is low relative to recent years, but which may rise once estimates on the number of victims of Europe's severe June heat waves are included.

Severe convective storms in the US resulted in the largest losses in the first six months of this year. Four separate severe weather events from February to May each caused insured losses of more than US$1bn. The most intense and costly event was a four-day long storm in May with heavy damage to property inflicted by hail in Colorado and strong winds in other parts of southern and central states. The economic losses of this storm alone were US$2.2bn, with insured losses of US$1.9bn.
Related Articles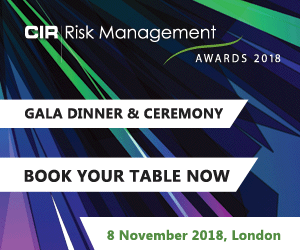 Download the latest
digital edition of
CIR Magazine
Power transmission and distribution risk
Description
Mark Evans talks to Barry Menzies, head of MIDEL ester-based dielectric fluids, at specialist manufacturer M&I Materials, to discover how ester fluids can help reduce the risks associated with transformer applications.
Most read stories...