GDPR: UK consumers ready to activate new data rights
Written by staff reporter
2017-07-17
Nearly half of UK consumers plan to activate new rights over their personal data, according to a poll of 2,000 UK adults commissioned by SAS. The poll explores the nation's sentiment towards upcoming legislative change that empowers consumers with new rights over how their personal data is handled by organisations. Fifteen per cent of adults polled even expressed their intention to activate their new rights in the same month that the General Data Protection Regulation (GDPR) comes into force on 25 May 2018.

The 45- to 54-year-old age group is most likely to issue a request, with just over one in five (21%) thinking they will active their new rights in the first month. The propensity to submit a request drops to 13% in the 18- to 24-year-old age category.There are regional variations, with adults in the North East and South East more inclined to submit a request within the first month (18%). This drops to 12% in Wales, 11% in the East of England and just 7% in Northern Ireland.

The poll revealed which rights UK adults would welcome most:

• 64% welcomed 'the right to access' (e.g. get a copy of personal data held about them)
• 62% welcomed 'the right to erasure' (e.g. erase personal data from certain systems)
• 59% welcomed 'the right to rectification' (e.g. if personal data is inaccurate or in
complete)
• 56% welcomed 'the right to object' (e.g. using data for marketing and profiling)
• 54% welcomed 'the right to restrict processing' (e.g. if they contest accuracy of data)
• 43% welcomed 'rights in relation to automated decision making and profiling' (e.g. the right to seek human intervention following an automated decision they disagree with)
• 38% welcomed 'the right to data portability' (e.g. obtaining and re-using data)

Compliance with the new data rights, which promote openness by public bodies and data privacy for individuals, is said to be proving challenging for organisations.

Said Charles Senabulya, vice-president at SAS UK & Ireland. "We are entering a new data era that requires a firm grip of customer data. One that rewards consumers as well as protects their right to privacy."

The poll also asked consumers what information they were prepared to share with their favourite brands or organisations, so they could benefit from improved or tailored services. It revealed that only a minority would voluntarily share what their friends and relatives like or dislike (5%), details on their social media activity (6%), information on their feelings or emotions (7%) or insight into their credit rating (8%), political preferences (8%) and opinions on societal issues (9%).

In contrast:

• 41% would share basic demographics (e.g. age, gender, social economic group)
• 24% would share personal contact details (e.g. postcode, mobile number)
• 24% would share partner status (e.g. married, single, widowed)
• 22% would share shopping habits (e.g. store preference, shopping days)
• 19% would share lifestyle and culture (e.g. interests, shopping habits, holidays)
• 17% would share sexual orientation, race, ethnicity, disability
• 16% would share their favourite brands
• 14% would share media preference (e.g. type of newspapers/publications)

The SAS poll also suggests the younger you are, the more willing you are to share your personal information. The percentage of people willing to share information in each age category generally decreased with age. This reflects a shift in attitudes towards personal data among a new generation of consumers.

The survey of 2,000 UK consumers was conducted by OnePoll, between 24 and 26 May 2017.
Related Articles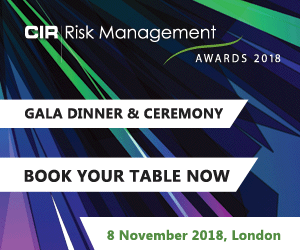 Download the latest
digital edition of
CIR Magazine
Power transmission and distribution risk
Description
Mark Evans talks to Barry Menzies, head of MIDEL ester-based dielectric fluids, at specialist manufacturer M&I Materials, to discover how ester fluids can help reduce the risks associated with transformer applications.
Most read stories...