Food recall alerts reach record numbers
Written by staff reporter
2017-02-11
The increasing number of food and vehicle product recalls around the world is leading to heightened government scrutiny of manufacturers' ability to safeguard consumers, according to figures released today by law firm Clyde & Co. It says that in the EU, food alerts have risen from 10 in 1995, to 519 serious alerts in 2013, and a record high of 818 such alerts in 2017. Alerts for motor vehicles have also seen a significant rise, up from 149 notifications in 2012, to 372 notifications in 2016.

Legal director at Clyde & Co, Jason McNerlin, points to an unusually high level of government interest in recall systems, in both Europe and the US, citing the formation last month of the UK's Office for Product Safety and Standards. Recent issues with defective tumble dryers in the UK have highlighted concerns about manufacturers' ability to carry out remedial works on a higher proportion of affected products. The government is known to be considering new ways of improving product recall communications with consumers, including the possibility of automatic registration at the point of purchase.

In the US and EU, reviews of certain aspects of consumer product recall systems have also taken place in the last few months. In the US, there have also been concerns about manufacturers not giving timely notice to the authorities, upon discovering possible product defects. Several US cases have seen multi-million dollar penalties for violations relating to product reporting and recall.

McNerlin said: "Manufacturers and their insurers need to be aware of this rising trend for product recall events, and the impact of heightened government involvement around the world. In fact, government oversight of product recall may well be at its highest ever level. In the UK, we've seen the formation within the last few weeks of the Office for Product Safety and Standards. Its priorities include establishing an incident management capability to respond to national product safety issues."

"The degree of oversight of recalls, internationally and across different product sectors, is increasing. Governments may aspire to have systems that are entirely voluntary, requiring minimal involvement and expense on their part, but more resources are being allocated to make processes more effective."

Generally speaking, the trend is towards expecting earlier precautionary reporting and corrective action, he says. "There are demands on authorities and manufacturers alike to prove that actions have been prompt and successful. In some instances, recall completion rates remain stubbornly low. Even in the automotive sector, which tends to see higher success rates than other sectors, research suggests some large-scale recalls in the US have a completion rate of only around 50% of affected vehicles. We should expect to see continuing pressure on manufacturers and others to do more to achieve higher success rates."

High-profile automotive recalls have recently called into question key elements of safety processes, including analysis of complaint data, and identification of trends for evidence of possible defects. Improvements to procedures are being made in the UK and the US, to help ensure that vehicle manufacturers are carrying out necessary investigations and responding effectively where required. A new Enforcement Directorate has been set up in the UK, aimed at making the recall system more effective here. As with food and consumer products, UK and US automotive authorities are also exploring ways to improve recall communications and success rates.

McNerlin advises insurers that their manufacturer clients should not only plan for product recalls, but also rehearse those plans to help ensure they are fully prepared to respond appropriately, based on scientific risk assessment as well as applicable product regulations.
Related Articles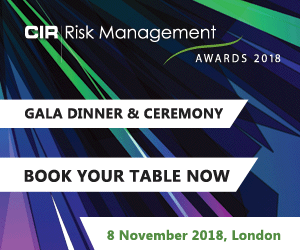 Download the latest
digital edition of
CIR Magazine
Power transmission and distribution risk
Description
Mark Evans talks to Barry Menzies, head of MIDEL ester-based dielectric fluids, at specialist manufacturer M&I Materials, to discover how ester fluids can help reduce the risks associated with transformer applications.
Most read stories...