Flood resilience: Action plan for businesses launched
Written by staff reporter
2016-10-31
The British Insurance Brokers Association (BIBA) has welcomed a property and flood resilience action plan, launched by DERFA. With the aim to promote and facilitate better uptake of resilience measures for properties at high risk of flood, the report was produced with input from five task groups. BIBA was part of Task Group 2, responsible for 'embedding resilience in small businesses'. Chaired by Graham Brogden, Aviva head of technical property claims, the task group identified a number of key points to highlight to small businesses, including:

1. Making businesses aware of the direct financial benefits they can have by embedding resilience in their business – not just by reducing the damage during a claim, but by way of easier access to a wider choice of insurers and more affordable insurance and improved terms.
2. Installing flood resistance products like flood gates, air brick covers and non-return sewer valves, can help prevent water entering property.
3. Making properties more resilient will reduce the time taken to make repairs if water does enter the property and therefore reduce down time. Resilience measures could include replacing carpet with hard floors, moving electrical points further up the wall and using waterproof materials in the construction, fixtures and fittings.
4. Ensuring that if a business is unfortunate enough to suffer a flood that they consider repairing in a resilient fashion with the help of their insurer and broker, for example raising equipment above likely flood levels
5. Flood resilience can be built into a property at any time – after a major refurbishment or even a fire claim, small businesses should consider make the property more flood resilient at any opportunity.

Andy Thornley, BIBA Head of Public Affairs, said the evidence in this report demonstrates that property level resilience is proven to make people and their property less vulnerable to the physical, mental and financial impact of flooding. "Flood resilience repairs often look no different to standard repairs and small businesses should not be put off by some minor aesthetic changes that can make a huge difference to the ability of the business to more quickly resume trading after a flood incident."

Executive director at BIBA, Graeme Trudgill, added the research from the experience of practicing brokers in the report shows an increasing number of insurers participating in resilient repairs if a property is flooded, with over 70% actively doing this already. "At BIBA we strongly encourage small businesses to consider resilient measures both before and after a flood. Our own research earlier this year revealed that that this is by far the most useful investment a small business at risk of flood can make that is recognised by an insurer when seeking property Insurance," he explained.

Following the launch of the report the members of Task Group 2 are also calling on Government to ring-fence the additional £200m a year in revenues generated from the recent increase in Insurance Premium Tax for spending on flood defences; to roll out a wider system of grants to small businesses (following the grants made available following Storms Desmond and Eva) to enable them to make property level flood resilience measures. Research by BIBA showed that 67% of brokers reported it would be either a little easier or much easier to place the insurance risk if their clients could utilise this grant; and to review building regulations as these apply to new builds, but not to extensions and modifications, this is a risk to property owners and we seek a change in the law to afford greater protection to property owners. It also called for grants to be available from a single central Government source and have the ability to be paid directly to an insurer who can then progress resilient repairs quickly.
Related Articles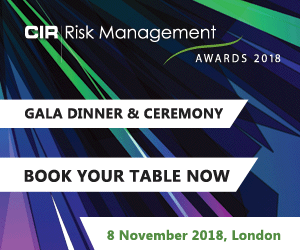 Power transmission and distribution risk
Description
Mark Evans talks to Barry Menzies, head of MIDEL ester-based dielectric fluids, at specialist manufacturer M&I Materials, to discover how ester fluids can help reduce the risks associated with transformer applications.
Most read stories...

Download the latest
digital edition of
CIR Magazine