Fitch releases European reinsurer peer review
Written by staff reporter
2016-08-31
Fitch Ratings completed its peer review of the four major European reinsurers in July, comparing and contrasting its views on the key credit factors of the four reinsurers, Hannover Re; Munich Re; SCOR and Swiss Re. Their ratings of the four largest companies (in terms of reinsurance premium) are influenced by strong market positions and the significant size and scale of their reinsurance operations.

Of the four companies, Munich Re and Swiss Re are considered to occupy the strongest market positions. In comparison, Hannover Re and SCOR have notably smaller absolute scale and more modest market shares, especially within major reinsurance classes, although both are large reinsurers within the global sector.

In each case, financial strength is also underpinned by very strong capitalisation, with all four companies demonstrating good stability of capitalisation in recent years. Fitch's risk-based Prism FBM assessment is either 'very strong' or extremely strong' and the regulatory-assessed solvency coverage for each company is consistent with Fitch's assessment. Hannover Re, Munich Re and SCOR, started operating under Solvency 2 on 1 January 2016, and in each case, the solvency coverage ratio sits within or above the target range set by each company – levels they consider to be optimal for their businesses.

Financial performance and earnings is also viewed as a highly influential rating factor although the scores exhibit a greater degree of variation across the four companies. As underwriting performance metrics form a significant part of the financial performance and earnings assessment, differing product mix is the key driver of score variability. According to Fitch's report, Hannover Re and SCOR operate more similar, lower-risk, less catastrophe-exposed, business profiles than Munich Re or Swiss Re.
Related Articles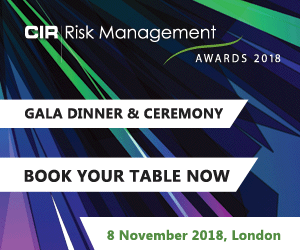 Download the latest
digital edition of
CIR Magazine
Power transmission and distribution risk
Description
Mark Evans talks to Barry Menzies, head of MIDEL ester-based dielectric fluids, at specialist manufacturer M&I Materials, to discover how ester fluids can help reduce the risks associated with transformer applications.
Most read stories...