FCA paper invites discussion on culture in financial services

Written by Deborah Ritchie
2018-03-12
The UK's financial watchdog has published a discussion paper on culture in the sector. Consisting of views from academics and thought leaders, the paper is intended to provide a basis for stimulating further debate on transforming culture in the sector – including what a good culture might look like, the role of regulation and regulators, how firms might go beyond incentives, and how to improve behaviour.

The Financial Conduct Authority said in a statement: "Culture and governance is a priority for the FCA and we have a strong focus on the role of the individual as well as the firm. The FCA has considered the role of leaders, incentives and capabilities, and governance of decision making. The introduction of the Senior Managers and Certification Regime (SM&CR) is an example of this; it sets minimum standards for the behaviour of financial services staff and aims to promote a culture where Senior Managers take responsibility for identifying where harm might occur, and take action to prevent it. The SM&CR creates a formal link between the behaviour of individuals and the conduct of the firm."

This is all very positive, of course, but just how this will play out in practice remains to be seen. The challenge, according to Vishal Khosla, Financial Services Partner at EY, will be creating something meaningful and relevant that avoids becoming a box-ticking exercise. "The FCA's continuing drive to transform culture in financial services firms and the strides that have already been made, both by the regulator and the industry as a whole, are very positive, but this will be hard to get right. Today's paper recognises that this is a difficult topic and that there is no one size that fits all approach," he notes.

"To stay relevant, truly transformational cultural change needs to evolve at pace. This is particularly the case as firms change the ways they work to accommodate increasingly agile and progressive workplace environments that will ultimately future-proof their organisations. Today's paper offers a number of actionable insights, many of which are complex, but this is not new to financial services firms, and there will be no excuse for not putting in place the right frameworks to achieve positive change."

EY notes that this should be a priority for companies in all sectors, not just financial services, though it is positive to see the sector leading the way.

FCA executive director of supervision for Retail and Authorisations, Jonathan Davidson, says culture may not be easily measurable but it is manageable, so firms can and should take responsibility for ensuring their culture is healthy for both their employees and customers, which can complement and support their business strategy.

"We as a regulator have long gone beyond having the mindset that simply complying with rules is enough," he adds. "However we don't believe a one size fits all culture is the right way to go. So we want to promote a discussion and consensus on the essential features of a healthy culture and how firms, regulators, employees and customers can help deliver that culture."

The FCA is inviting all those with an interest in financial services to consider the issues identified in the paper and to engage in the debate about what constitutes a healthy culture, and how to promote it.
Related Articles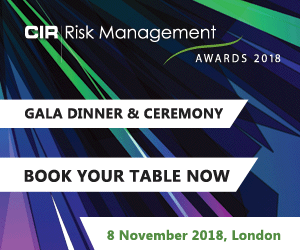 Download the latest
digital edition of
CIR Magazine
Power transmission and distribution risk
Description
Mark Evans talks to Barry Menzies, head of MIDEL ester-based dielectric fluids, at specialist manufacturer M&I Materials, to discover how ester fluids can help reduce the risks associated with transformer applications.
Most read stories...