Earthquake risk model reveals the real picture of Middle East exposure
Written by staff reporter
2017-06-23
Almost one fifth of the population of the Middle East – approximately 30 million people – are now living in areas at risk of earthquakes, according to a new Oasis earthquake risk model released by CATRisk Solutions and sponsored by Lloyd's.

The new risk tool uses a bespoke seismotectonic source model to give a more accurate assessment of earthquake risk in Bahrain, Iraq, Jordan, Kuwait, Lebanon, Oman, Qatar, Saudi Arabia, Syria, United Arab Emirates and Yemen. Crucially, the model uses the latest seismic data from all earthquakes that have occurred in the wider Middle East, as earthquake damage is often caused by tremors that occur outside the areas covered by existing risk models for the region.

Understanding the risk from earthquakes in the region is becoming increasingly important for several key reasons. The Middle East has seen a rapid growth in urbanisation and economic development in the last thirty years. Of the 398 million people spread across the region, 56% live in cities. This figure is expected to rise to 68% by 2025. This, combined with the impact of natural disasters, is driving a high demand for new risk transfer products and services across the Middle East.

Cameron Murray, Lloyd's Head of Middle East & Africa, said: "This earthquake report for the Middle East will help communities in the region increase their understanding of the risks that they face and ultimately drive a more structured, cogent and diagnostic approach to underwriting earthquake risk."

Between 1990 and 2014, the Middle East was hit by 200 moderate to large earthquakes, which killed almost 250,000 people and affected 10 million others, according to the new cat model. However, the region – with the exception of Israel, Turkey and Cyprus – has previously been largely overlooked by catastrophe modellers.
Related Articles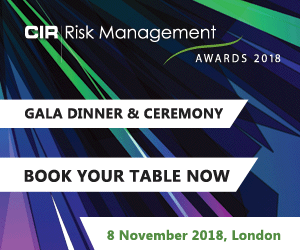 Download the latest
digital edition of
CIR Magazine
Power transmission and distribution risk
Description
Mark Evans talks to Barry Menzies, head of MIDEL ester-based dielectric fluids, at specialist manufacturer M&I Materials, to discover how ester fluids can help reduce the risks associated with transformer applications.
Most read stories...