Databarracks appoints Osborne chairman
Written by staff reporter
2017-07-03
Disaster recovery and business continuity services company, Databarracks has announced the appointment of Mike Osborne, former managing director of business continuity at Daisy Group, as new chairman.

In this role, Osborne will work with the senior management, with a remit focused on driving business growth as well as helping to expand and broaden the firm's existing recovery and business continuity service offerings.

Peter Groucutt, managing director of Databarracks welcomed Osborne to the business. "In his career, Mike has taken a fledgling disaster recovery company and grown it into one of the UK's leading providers of IT, Workarea and BC Planning services with revenues exceeding £50 million. He has advised over 2,000 clients, from SMEs to global brands and supported many through some of the UK's most significant disaster incidents over that period'.

"It was apparent, watching Mike collect his lifetime achievement award a few weeks ago just how well regarded and respected he is in the industry. He is a continuity guru who has made an incredible contribution to the discipline and many of those working in it. As an inaugural chair of the Recovery Site Providers Group and a Founding Partner of the Business Continuity Institute, Mike has been at the forefront of the UK continuity profession for over three decades and seen it go from niche to a globally recognised profession".

Commenting on his appointment, Osborne stressed the importance of aligning both personality and values when accepting the new position at Databarracks. "Trust and integrity are huge components of any provider of recovery and continuity services and so I've taken my time to choose the right firm. I am delighted to be joining Databarracks and at an exciting time in the company's growth. The recent emergence of the digital economy means that data is now at the heart of every business and therefore the way organisations manage, store, protect and recover has never been more critical," he said. "The recent cyber attacks and well reported corporate IT failures also serve to demonstrate the total dependency that now exists on the IT systems needed to deliver continual customer service and the importance of having credible and tested continuity plans, not only for the IT, but covering all aspects of an organisation."
Related Articles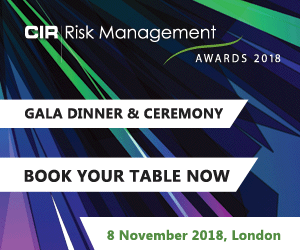 Download the latest
digital edition of
CIR Magazine
Power transmission and distribution risk
Description
Mark Evans talks to Barry Menzies, head of MIDEL ester-based dielectric fluids, at specialist manufacturer M&I Materials, to discover how ester fluids can help reduce the risks associated with transformer applications.
Most read stories...