Compliance database for insurance buyers launched
Written by staff reporter
2014-06-03
Airmic and insurance information specialists, Axco, have launched a database of regulatory requirements designed to address one of the most pressing problems facing risk managers – confirming that their insurance programmes are compliant globally. Insight Risk Manager provides crucial intelligence on local compliance and regulatory insurance requirements, policy conditions and premium payment terms.

"Insight Risk Manager is more than just a valuable tool – it's a potential game-changer," said Airmic chair-elect Helen Pope. "Compliance for global insurance programmes will probably never be easy, but the new database will provide risk managers with access to a single, authoritative source they can consult whenever they want."

"Insight Risk Manager is Axco's contribution to improved communication between the insurance industry and the buyers of insurance," said Business Development Director Tim Yeates at Axco. "The need for change was highlighted several years ago by a group of risk managers and broker representatives concerned by a lack of information consistency which in turn had led to uncertainty in the buyer community. Backed by the leading brokers in the world, an information tool such as Insight Risk Manager allows intelligent dialogue around the critical theme of compliance."

Global compliance of insurance programmes has repeatedly come near the top of risk manager concerns in surveys conducted by Airmic and as such, the main focus of Insight Risk Manager will be to provide guidance on admitted and non-admitted insurances by jurisdiction.

Compliance varies not only between countries, but also within some territories such as Australia and failure to comply can result in fines, cancellation of cover, reputational damage and, in exceptional cases, imprisonment. The launch version covers regulations in thirty countries that represent 93% of the world's Property and Casualty Insurance Premiums with the remaining countries being phased in over time.
The database is the result of a cross-market project chaired by Airmic and involving brokers, insurers and insurance trade associations. The European risk management federation, FERMA and their North American counterparts RIMS have been kept fully informed. Although individual insurers and brokers have their own databases, it was suggested by Airmic that the size of the task is such that it is best handled on a market-wide basis.

Axco were chosen after an extensive selection process, during which more than a dozen proposals were considered. Six leading brokers have been actively involved in supporting the project.

Access to the database is available as a benefit of Airmic membership and is intended to provide consistent, up-to-date information, as well as to assist insurance buyers in conducting relevant, informed discussions with their brokers.
Related Articles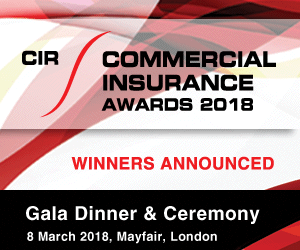 Power transmission and distribution risk
Description
Mark Evans talks to Barry Menzies, head of MIDEL ester-based dielectric fluids, at specialist manufacturer M&I Materials, to discover how ester fluids can help reduce the risks associated with transformer applications.
Most read stories...
World Markets
(15 minute+ time delay)

Download the latest
digital edition of
CIR Magazine