Climate change could impact D&O, lawyers warn
Written by staff reporter
2017-02-15
Underwriters increasingly need to ask searching questions about how businesses are responding to climate change, according to lawyers at Clyde & Co. The call comes on the back of the potential for a growing volume of litigation and disputes in which corporate boards are being held to account for alleged reporting, regulatory and fiduciary failures linked to climate change and the fossil fuel sector.

Speaking at a seminar this week, partner at the law firm, Edward Kirk, said regulators including the SEC have already issued guidance on climate change disclosure and are taking action against energy companies. "They are also starting to look long and hard at sectors like mining, transportation and insurance," he warned.

Suggestions that this type of litigation in the US will be reduced by the election of Donald Trump were rebutted by Clyde & Co. The lawyers felt that while federal regulation in the US could be affected by a more pro-business administration, private prosecutions by shareholders and activist groups would continue.

Clyde & Co were joined on the seminar's panel by Alice Garton, a senior lawyer for ClientEarth and Anthony Hobley, CEO of the Carbon Tracker Initiative. The panel members described three key types of litigation that could result from climate change:

• Companies failing to fully disclose how climate change affects their business

• Shareholders, pension fund members or investors suing investment and pension funds for investing in businesses adversely affected by climate change

• Companies contributing directly to pollution and climate change

Litigation is already under way in the US against an energy firm for its failure to disclose the impact of climate change after it wrote down oil and gas assets in 2016. Other actions are also being considered.
Related Articles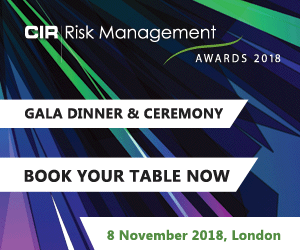 Download the latest
digital edition of
CIR Magazine
Power transmission and distribution risk
Description
Mark Evans talks to Barry Menzies, head of MIDEL ester-based dielectric fluids, at specialist manufacturer M&I Materials, to discover how ester fluids can help reduce the risks associated with transformer applications.
Most read stories...