CRG report highlights greatest risks for 2014
Written by staff reporter
2013-12-19
Global business risk consultancy Control Risks, has published its annual RiskMap report, plotting global trends over the coming year. Now in its 31st year, RiskMap highlights the most significant underlying trends in global risk and security, and provides a detailed view from the markets that will matter most in 2014

RiskMap's assessment of political and security risk encompasses the potential negative impact on business operations through political instability and intervention; the influence of societal and structural factors; as well as actions that harm the financial, physical and human assets of a company. Comparing the data from today with ten years ago, the proportion of global output coming from countries rated medium or high political risk has more than doubled, to 35%. This has brought international investors and leading multinational companies face to face with risks such as political instability, corruption and contract repudiation, increasing the need for effective risk management strategies.

"The risks and opportunities for global business in 2014 are becoming clearer. Power continues to shift east towards Asia, and downwards towards citizens impatient for change," said Richard Fenning, CEO, Control Risks. "Developing markets are taking on the complexities of developed markets. Local political voices in China, Brazil and Turkey will continue to demand more influence over governments. The middle classes in the developing world will continue to shout louder, often against the established political elites and growth trajectories in developing markets will be more uncertain."

For 2014, Control Risks has identified a number of factors that will cause concern for companies, no matter which continent they do business in.

•In Europe, the Eurozone's problems, intensified by efforts to demonstrate gradual recovery, will leave it inward-looking in 2014. In Eastern Europe, middle-class ambitions to enjoy political freedom (and frustrations over unfair elections and corruption) could lead to a further resurgence of large scale protests. In the West, falling real wages and household incomes, job insecurity, rising taxes and lower living standards all make for perfect material for political parties fighting on election battlegrounds.

•In Asia Pacific, the business activities of foreign companies in China will come under continued scrutiny; it will leave companies and investors who still operate with the 'it's the way things are done in China' mentality increasingly vulnerable. Meanwhile, India will continue to disappoint investors despite its potential to offer significant opportunities; forthcoming elections are unlikely to produce a government strong enough to tackle the issues undermining growth.

•For the Middle East, the already entrenched and growing presence of al-Qaida affiliate groups in Syria will continue to destabilise surrounding nations. Equally uncertain political and security environments in Egypt, Libya and Tunisia will provide fertile ground for the further development of nascent jihadist groups who will threaten commercial assets.

•While Africa will be home to more than half of the 20 fastest growing global economies by 2017, the continent also has some of the world's least competitive countries, with many struggling to generate the employment and political liberalisation needed by expanding populations. Security concerns will amplify these challenges. In Kenya, following the Westgate shopping centre attack, the threat posed by the Somali Islamist group al-Shabab will remain a primary concern; it is also likely to extend to other Easter African nations including Uganda and other AMISOM contributors including Burundi and Ethiopia.

•In Latin America, the looming tapering of US quantitative easing will expose the divide between countries such as Chile, whose more solid economic fundamentals will better insulate them from market volatility and Brazil, whose heftier financing needs will likely be hit by a weakening of currency and rise in interest rates.

Noteworthy findings from this year's security risk analysis include:

•The analysis of kidnap risk shows that the largest proportions of recorded kidnaps-for-ransom happen in Asia and the Pacific, particularly India, Pakistan, Afghanistan and the Philippines. Kidnap risk remains substantial in Africa; Nigeria retains first place in the continent and Kenya also features prominently, with criminal gangs and al-Shabab targeting foreign and local nationals. Kidnappings in Latin America are down by 50% since 2005.

•Somali piracy is at its lowest level for six years – the 2013 figures represent a 90% reduction over 2012. However, the threat of piracy in the Gulf of Guinea remains high with over 100 reported incidents in the first ten months of 2013.

RiskMap 2014 also highlights four global trends which will become increasingly important for business in 2014.

•The hunt for growth in 2013 provoked a new wave of trade protectionism. Combined with the increasingly competitive nature of the emerging markets and the anticipated effects of Federal 'tapering' in the US – the manner in which countries choose to counter slowing growth will be critical to the political risk landscape.

•Over the last ten years, the global middle class grew to over two billion people and is projected to expand to over three billion by 2023. As evidenced by the Arab Spring, Occupy and Indignados movements, this creates an expectation for rapid growth to generate better opportunities. Increasingly companies, and governments, will be scrutinised on environmental, indigenous rights, workplace safety and economic justice grounds.

•While growing economic force has made leading emerging markets indispensable to global governance, it has not yet compensated for the relative decline of the US and Europe. However, while both remain consumed with domestic political and economic challenges, the potential for governance to be left at the mercy of bilateral negotiation and ad hoc intervention pose both security and political risks to business.

•Company nationality will play an increasingly important role in political risk as rapid and fundamental shifts in strategic interest continue to evolve and unravel. Moves by the US to become energy independent, China's strategic imperatives in sub-Saharan Africa and the burgeoning food needs of water-scarce but cash-rich Gulf emirates are just a few examples of how the geopolitical landscape continues to evolve.
Related Articles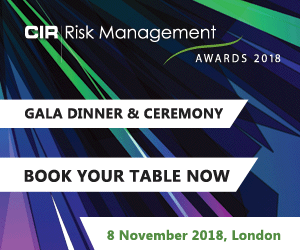 Download the latest
digital edition of
CIR Magazine
Power transmission and distribution risk
Description
Mark Evans talks to Barry Menzies, head of MIDEL ester-based dielectric fluids, at specialist manufacturer M&I Materials, to discover how ester fluids can help reduce the risks associated with transformer applications.
Most read stories...