COMMENT: Trust issues
Written by
2017-07-01
As Brexit secretary David Davis completes the first substantive rounds of talks in Brussels, the business community is turning its attention to Brexit contingency plans, to ensure they can respond as best they can, whatever the outcome of discussions at the Commission's headquarters. And that's as it should be; that's sound enterprise risk management. But there is more that businesses can do at this important time for the UK, and as some take care of their own plans and response, others are looking outward, and asking what they can do to support the government in its goals.

Taking the initiative, business group the Confederation of British Industry says that with its broad skills base, the business community has a lot to offer. Each of the 190,000 firms it represents has part of the solution, it says – expertise in a specific region, sector or size of business which when brought together forms a full picture which the government needs to see. A Business Brexit Taskforce it says would help the next government get the evidence from the shop, office and factory floor, the "compass" they'll need to find their way through the details of negotiations. At the same time, this would give businesses the reassurance and confidence that the government is really listening to their concerns.

There are other ways that businesses can take responsibility, according to the business group. As the country navigates through these choppy waters, it says commerce must address the disconnect between businesses and people in communities. The group is thus calling upon businesses to improve the way they interact with employees and customers, to show they are "more than faceless machines motivated by profit". To be truly effective, business needs public support, generated by building trust with its employees and customers. Transparency, it says, is the route to restoring public trust.

"People tell us they recognise the importance of business – particularly in providing jobs – but there is still a reputation challenge and a clear disconnect between what businesses do and what people believe," states CBI president, Paul Dreschler. "Firms of all sizes and sectors up and down the country can be proud about their role in powering our economy and providing fantastic goods and services that make a really positive difference to people.

"Whether developing new technology that turns salt water into drinking water to save lives, or manufacturing electric black cabs to curb pollution, business
has a unique role in creating a more prosperous society."

But while the reputation of business ebbs and flows, fundamentally, on jobs, tax and technology, business makes a significant contribution to people's lives, and by working together with the government on this next challenge, the group points out that it can do even more.

"If the benefits of working together are clear so are the dangers of the next government going it alone," Dreschler adds. "Business needs a say because, even when the politics have been forgotten, we'll have to live with the effects for decades to come."
While each poll produces a different figure, it's generally accepted that the majority of businesses did not ask for Brexit. But there's a lot that happens to businesses that they don't ask for. Now, back to enterprise risk management...
Related Articles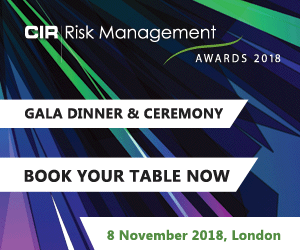 Download the latest
digital edition of
CIR Magazine
Power transmission and distribution risk
Description
Mark Evans talks to Barry Menzies, head of MIDEL ester-based dielectric fluids, at specialist manufacturer M&I Materials, to discover how ester fluids can help reduce the risks associated with transformer applications.
Most read stories...