COMMENT: Brexit begins...

Written by Deborah Ritchie
2017-03-29
After months of uncertainty, Brexit has begun in earnest. The triggering of Article 50 started a two-year negotiation period, during which the UK will agree terms of its separation and future trade access with the EU.

The commencement of negotiations does not, however, mean an end to the uncertainty. While negotiations for divorce may have begun, they are likely to be difficult and the timetable pressured. This could manifest on the insurance industry in a number of ways, and insurers, reinsurers and brokers are putting contingency plans in place in the event that a trade deal with the EU is not finalised at the end of the two year period.

A report from Ernst & Young notes that many UK-based insurers' and brokers' contingency plans are taking form in the creation of an EU subsidiary. It says that while firms won't be looking to move more people or operations than they have to, there is an 18-month minimum timeframe to develop and implement their chosen contingency option, warning that time is of the essence – not just for tax and regulatory purposes, but also for strategic, commercial and operational reasons.

New insurance subsidiaries will require operational substance to gain regulatory approval. EY insurance partner Simon Woods says each jurisdiction is likely to require capital to be retained locally in order to meet solvency requirements. "All jurisdictions will take legal entity governance seriously. They will require a minimum number of people – including senior staff – to be dedicated to the subsidiary, with the infrastructure to allow them to operate the organisation and serve their clients and trading partners. All of this must be considered at an early stage, to support the application process," Woods says. Given the scale of this change, though, some insurers may find delivering in the available timescales a challenge.

EY says insurers will also need to consider whether they need to transfer their back-book into the new company. This may be required for a number of reasons, including ongoing permissions to continue servicing of insurance business, minimising frictional costs and ensuring the new company is profitable from day one. Portfolio transfers add additional complexity, cost and time to the process, however. Woods says the main concerns include the capacity of the courts, regulators and independent experts to process the anticipated number of transactions.

When it comes to passporting, inbound passport holders need confidence from UK regulators that they can continue to operate post-Brexit. Unless continued access is negotiated, the ability to passport between the UK and other EEA states will be lost. Insurance firms currently holding an inbound branch passport would therefore have to apply to the PRA for authorisation in order to continue trading in the UK. Obtaining authorisation is also a substantial, and time-consuming process.

EY is calling for early clarity from UK authorities, to minimise disruption in the domestic and international insurance markets that result from Brexit, suggesting the same authorities might also develop the reputation of the UK, and the London insurance market in particular, as a business-friendly domain.
Related Articles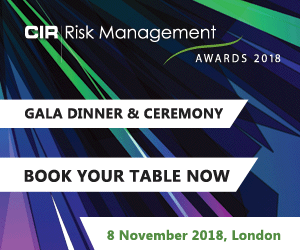 Download the latest
digital edition of
CIR Magazine
Power transmission and distribution risk
Description
Mark Evans talks to Barry Menzies, head of MIDEL ester-based dielectric fluids, at specialist manufacturer M&I Materials, to discover how ester fluids can help reduce the risks associated with transformer applications.
Most read stories...