COMMENT: A year of heightened uncertainty

Written by Deborah Ritchie
2017-01-15
Globalisation and trade challenges highlighted by the US election and Brexit referendum usher in a year of heightened strategic uncertainty on both sides of the pond – difficult topics which have become impossible to avoid and, according to Control Risks' CEO Richard Fenning, may even make 2017 "one of the most difficult years for business' strategic decision making since the end of the Cold War". Such high levels of complexity and uncertainty will force boards to undertake comprehensive reviews of their approaches to risk management. Risk professionals at the Institute of Risk Management (IRM) echo this sentiment, citing political risk among their chief concerns for the coming year.

The team of experts at the Institute are equally worried about cyber security, bribery, and oil price and financial markets fluctuations. Disruptive business models, the Internet of Things and the impact of a more connected world will all be factors changing the way we work, according to the Institute. Amid this ongoing change and uncertainty, enterprise risk management has never been so crucial. Chair of the IRM, Nicola Crawford, says changes in both the micro and macro environment should be constantly considered against a company's risk register, business continuity plans tested and stress tests conducted.
Commenting on developments with Brexit, the IRM says both a devalued pound as well as potential EU barriers to trade could have a serious impact on manufacturers importing parts from abroad – and not just British companies; but that whilst there are many risks involved with Brexit, there will inevitably also be many opportunities. A weakened pound would increase exports and encourage British companies with foreign suppliers to innovate or seek local suppliers in order to reduce costs.

Supply chain risk continues to rise rapidly according to the Chartered Institute of Purchasing and Supply. The IRM's Carolyn Williams says recent years have seen two significant shifts in this arena: the first towards globalisation, outsourcing, offshoring and specialisation, and the second towards widespread adoption of social media and rapid means of communication which make for increased sensitivity to reputational risks. She cites one recent tweet by Donald Trump questioning the cost of the US F-35 fighter jet project, which knocked more than £4 billion in one day off the value of the three defence companies, including BAE Systems.

Organisations are increasingly called to public account for their decision-making, which includes the behaviour of those with whom they choose to do business, directly or indirectly. All organisations need to be alert to issues of supplier viability, robust contracts, disruption from natural catastrophes, fraud, bribery and corruption, slavery and working conditions.

These ongoing issues need not rule out plans for 2017, and the rising issue of corruption and other risks should not stop businesses from expanding into new territories. CEO of The Risk Advisory Group, Bill Waite, says high levels of corruption risk need not preclude a market from a company's expansion plans for 2017. "Indeed," he says, "in certain industries the riskiest countries are often the most rewarding." Similarly, behind all this ongoing uncertainty, there is much for the engaged risk professional to look forward to.
Related Articles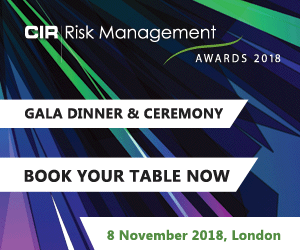 Download the latest
digital edition of
CIR Magazine
Power transmission and distribution risk
Description
Mark Evans talks to Barry Menzies, head of MIDEL ester-based dielectric fluids, at specialist manufacturer M&I Materials, to discover how ester fluids can help reduce the risks associated with transformer applications.
Most read stories...