CMS issues warning over reinsurance reinstatements
Written by staff reporter
2017-10-19
Law firm CMS warned today that US insurers paying claims for multiple natural catastrophes could face disputes over the sheer number of claims being made on their reinsurance programmes.

It says that after what is likely to be the costliest year for natural and man-made catastrophes, with wildfires still raging in California and several weeks of the North Atlantic hurricane season still to go, many direct US insurers will suffer from the cumulative effects of multiple major loss events.

"The truly dangerous sting in the insurers' tail is that in the pressure to maximise reinsurance recoveries, where some programmes have been called upon four or five times, disputes about erosion of limits and reinstatement are on the cards," says Simon Kilgour, an insurance partner with law firm CMS. "It is foreseeable that many direct insurers will run out of sideways catastrophe reinsurance cover by the end of the year, which has not happened for a very long time."

Kilgour says reinsurance programmes have now been called upon four, five or sometimes more over the course of 2017.

"Reinstatement clauses contain variable provisions that stipulate whether the basis for reinstatement of the programme should be made on either the date order of the relevant catastrophe, or the date order of when settlements are first made. In the pressure to maximise reinsurance recoveries some disputes about erosion of limits and reinstatement are possible," he added.
Related Articles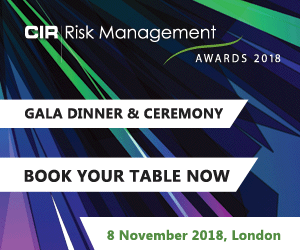 Download the latest
digital edition of
CIR Magazine
Power transmission and distribution risk
Description
Mark Evans talks to Barry Menzies, head of MIDEL ester-based dielectric fluids, at specialist manufacturer M&I Materials, to discover how ester fluids can help reduce the risks associated with transformer applications.
Most read stories...