Business interruption greatest source of financial loss for companies
Written by staff reporter
2016-09-22
Business interruption is the leading cause of losses for companies, multinational organisations and NGOs that operate outside the US, according to a new survey by insurance broker Clements Worldwide. The Clements Worldwide Risk Index, released today, shows property damage and general liability as close second and third largest sources of financial losses.

In the face of these risks, 35% of organisations indicate they may delay global expansion. This is up from 27% in the Winter/Spring 2016 Edition of the Clements Worldwide Risk Index.

President of Clements Worldwide, Chris Beck said organisations are coming to terms with the fact that man-made risks like political violence and cyber attacks are as critical as environmental risks like weather and catastrophic perils in terms of their potential threat to global operations in a way that threatens sustained growth.

Increased risks of political violence and terrorism are also highlighted, with 25% of respondents citing terrorism as their top concern in this edition of the Index. The top concern among all respondents was fears related to lack of protection against cyber attacks and subsequent liability, which topped the list of concerns at 26%.

While NGOs and international schools reported findings consistent with the global results of this edition, the top losses reported by respondents affiliated with government agencies and contractors show other differences. Forty-three percent of these respondents identified terrorism as the top source of losses. Cyber liability was second, at 36%. Political/labour unrest followed closely behind at 33%. In line with previous surveys, terrorism still remains a top concern as reported by 39% of these respondents compared with 25% of overall respondents.
Related Articles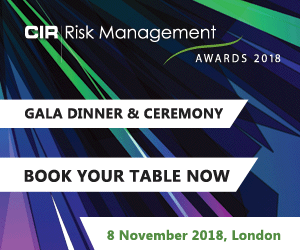 Download the latest
digital edition of
CIR Magazine
Power transmission and distribution risk
Description
Mark Evans talks to Barry Menzies, head of MIDEL ester-based dielectric fluids, at specialist manufacturer M&I Materials, to discover how ester fluids can help reduce the risks associated with transformer applications.
Most read stories...