Budget 2017: What should the insurance industry be looking out for?
Written by staff reporter
2017-11-20
With just ten days until the Chancellor's autumn Budget, what should the insurance industry should be looking out for? Stephen Brown, partner at Mazars, says that without a huge increase in debt, anything given away on Wednesday will need to be paid for from somewhere else.

"The US recent tax reform proposals will increase the tax on insurers by billions of dollars to fund cuts elsewhere," he comments. "While we are certainly hoping for nothing of this magnitude, insurance has been seen by the Treasury as something of a cash cow, as shown with the recent doubling of Insurance Premium Tax. It is possible that this will be raised again. It has not been 'trailed' by the Treasury, but then nor was the last raise."

Brown says HMRC could issue some guidance over common scenarios relating to Brexit and the approach they intend to take. "This Budget would be a good opportunity to set out a plan for how the government will assist groups in the financial services sector regarding Brexit," he adds.

In the current uncertain climate, Brown says his wish for this Budget would be real industry consultation on any significant changes: "The government has shown a willingness fix issues that impact the insurance industry such as the changes to loss relief and their impact on regulatory capital. However, there has been disappointment that many issues were caused by a lack on consultation on proposed changes in the first place."
Related Articles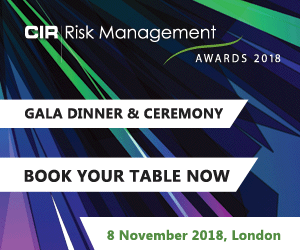 Download the latest
digital edition of
CIR Magazine
Power transmission and distribution risk
Description
Mark Evans talks to Barry Menzies, head of MIDEL ester-based dielectric fluids, at specialist manufacturer M&I Materials, to discover how ester fluids can help reduce the risks associated with transformer applications.
Most read stories...