Budget 2017: BIBA urges Chancellor to reduce IPT
Written by staff reporter
2017-11-21
BIBA, its members and their customers believe that Insurance Premium Tax should be reduced and have made the case to the Chancellor in a recent budget submission, in which the group explained that the 10% increase in uninsured accidents identified by the Motor Insurance Bureau (MIB) in August 2017, can in the opinion of most industry experts, be attributed to this summers' IPT rate hike, moving from 6% to 12% in a 20 month period.

It also drew attention to the impact of the tax on those living or operating in high flood risk areas, where premiums are already necessarily higher if the risks are outside the scope of Flood Re.

Steve White, BIBA CEO said: IPT is a tax on protection and the UK has one of the highest levels of premium tax in Europe yet our insurance sector also has one of the biggest costs of regulation. We believe that IPT is now at a level that is contrary to HMT's policy that it should make the required contribution to Government revenues while minimising the effect on the take up of insurance. Any further increase would exacerbate the problems already being seen."

Graeme Trudgill, executive director at BIBA concluded: "We have seen a 100% increase in tax and this is without doubt beginning to bite at a time when motor premiums in particular are rising as a result of continued fraud and the March change to the personal injury compensation discount rate. Figures from both the AA and BIBA's own research show a significant increase in quarter 3 premiums for motor insurance. The BIBA-Acturis premium index revealed an 8% hike in private motor premiums before IPT is applied, rising to 10% when the last tax increase is applied."
Related Articles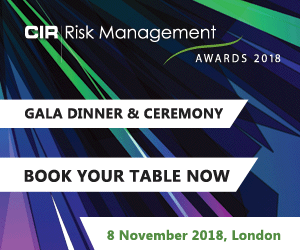 Download the latest
digital edition of
CIR Magazine
Power transmission and distribution risk
Description
Mark Evans talks to Barry Menzies, head of MIDEL ester-based dielectric fluids, at specialist manufacturer M&I Materials, to discover how ester fluids can help reduce the risks associated with transformer applications.
Most read stories...