BOOK: Operational Risk Perspectives: Cyber, Big Data, and Emerging Risks, Maurice & Rathod
Written by (reviewer) Deborah Ritchie, editor, CIR
2017-02-02
Operational Risk Perspectives: Cyber, Big Data, and Emerging Risks
Edited by D.R. Maurice & Jitendra Rathod, Risk Books, 2016


This multi-contributor title has been written by a range of authors from across the US and the UK, with chapters from risk consultants, academics and associations. As such, Operational Risk Perspectives is precisely that – a range of different views and approaches to operational risk management. The result is a set of essays that will be of most use to the seasoned practitioner.

"Operational risk tends to be considered as a catch-all risk category," editors Maurice and Rathod write in their introduction. "It is defined broadly as anything that is not credit or market risk. Given the evolution in financial services, which continues to emphasise technology gains, this traditional definition does not recognise that all risks are increasingly integrated." A failure to appropriately define operational risk more generally, they add, also suggests that the corollary to risk identification – risk mitigation – may also fall short. "Operational risk addresses a range of flawed operations that, since the financial crisis, have at its root failed processes. Process-oriented flaw such as data breaches resulting from, for example, a distributed denial of service (DDoS) reflect system flaws but also deliberate human actions."

Quite technical and full of information across three major areas: technology and cyber risks, modelling and operational risk, and best practices and programmes; it includes an excellent chapter on the risk considerations of blockchain and bitcoin, introducing the ideas that surround the technology, and exploring some of the characteristics that will affect risks in the financial services sector, and arguably beyond with its exploration of the topic and potential for (decentralised) virtual currencies in society.

To what degree can fiat and digital currencies coexist? And might there be a point in the future when fiat currencies have had their day? Important questions to ask today in a sector that must evolve to serve tomorrow.
Related Articles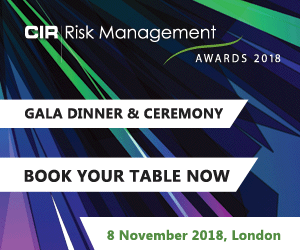 Download the latest
digital edition of
CIR Magazine
Power transmission and distribution risk
Description
Mark Evans talks to Barry Menzies, head of MIDEL ester-based dielectric fluids, at specialist manufacturer M&I Materials, to discover how ester fluids can help reduce the risks associated with transformer applications.
Most read stories...