Baroness Pauline Neville-Jones joins Ridge-Schmidt Cyber
Written by staff reporter
2015-01-19
Baroness Pauline Neville-Jones, who has served at the highest levels of the British national security and diplomatic services, has joined Ridge-Schmidt Cyber as senior advisor. Founded by Tom Ridge, first US Secretary of the Department of Homeland Security, and Howard A. Schmidt, former cyber advisor to Presidents Barack Obama and George Bush, Ridge-Schmidt Cyber advises corporate and government leaders on developing cyber resilience.

Baroness Neville-Jones served as Prime Minister David Cameron's National Security Advisor and authored the Conservative party's national security strategy, including the creation of a UK National Security Council. In the Cameron government, she served as Minister of State for Security and Counter-Terrorism from 2010-2011 and as the Prime Minister's Special Representative to business for cyber security from 2011-2014.

"The addition of Baroness Neville-Jones is a force multiplier for our international clients," Ridge said. "As Prime Minister Cameron's former liaison to the business community on cyber, Baroness Neville-Jones is highly respected and uniquely qualified to advise executives on cyber defense strategy, management of multi-national cyber regulatory frameworks and best practices for public-private sector collaboration for IT resilience. The arrival of Baroness Neville-Jones to the Ridge-Schmidt Cyber team provides our clients with unparalleled access to world-class advisers."

"Global organisations need a smart, comprehensive perspective to meet both the technical and enterprise complexities of the digital age," added Howard Schmidt. "Baroness Neville-Jones' experience as a senior government security official and leader in the corporate board room will help close the communication gap between executives and information security teams – a common problem within many businesses. She can help to put cybersecurity into a risk management and business framework that is visible, measurable and accountable."

Baroness Neville-Jones is former chair of the Joint Intelligence Committee and BBC Governor. She has also held the positions of head of business development for NatWest and chair of QinetiQ Group. She currently serves on the advisory board of the Council for Cybersecurity.

"I am absolutely delighted to be joining Ridge-Schmidt Cyber as senior advisor," said Baroness Neville-Jones. "This is a challenging and exciting time to be helping companies as they move to seize the business opportunities and adapt to the security demands of the digital age. Cyber security should be a business enabler."
Related Articles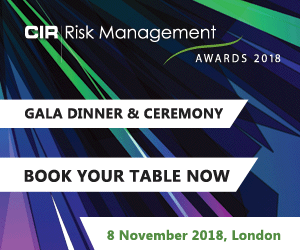 Download the latest
digital edition of
CIR Magazine
Power transmission and distribution risk
Description
Mark Evans talks to Barry Menzies, head of MIDEL ester-based dielectric fluids, at specialist manufacturer M&I Materials, to discover how ester fluids can help reduce the risks associated with transformer applications.
Most read stories...