BOOK: Managing Operational Risk: New Insights and Lessons Learnt
Written by (reviewer) Deborah Ritchie, Editor, CIR
2016-11-30
Managing Operational Risk- New Insights and Lessons Learnt
Michael Grimwade, Risk Books, 2016.

After a period of growth and stability, the financial crisis seemed a spectacular and unique mistake... With this book, author Michael Grimwade suggests that not only were the operational risk losses unexceptional, but that they could easily be repeated.

Managing Operational Risk: New Insights and Lessons Learnt addresses the root causes of the huge operational risk losses suffered after the financial crisis; new and emerging operational risk threats; and the lessons to be learnt for those working within the sphere of operational risk management.

Himself an operational risk manager working in the field for 20 years, Grimwade is currently head of operational risk for MUFG Securities, and has held previous roles in Lloyds TSB's Wholesale and International division as well as at RBS and NatWest.

The book's opening chapter asks: what were the root causes of the unprecedented spike in operational risk losses after the global financial crisis? In this part, Grimwade seeks to uncover what can be learned from the patterns of operational risk losses since 1989 – focusing on three large spikes in particular. Recognising that we are already operating in very different times, part two examines how new and emerging operational threats are unfolding, and explores a number of certainties and uncertainties within regulation, macroeconomics, technology, and society, politics and environmental change; and examines how each of these may impact operational risk management.

Grimwade presents some particularly in-depth analysis of the Libor rigging scandal – and uses a number of other case studies to illustrate his points throughout the book.
While it deals with a substantial and complex topic, a number of pithy, often humorous and always insightful quotes appear throughout this book that serve to remind the reader
of the importance of the human perspective as well as of risk ownership.
Related Articles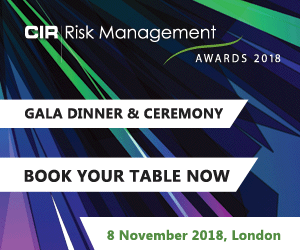 Download the latest
digital edition of
CIR Magazine
Power transmission and distribution risk
Description
Mark Evans talks to Barry Menzies, head of MIDEL ester-based dielectric fluids, at specialist manufacturer M&I Materials, to discover how ester fluids can help reduce the risks associated with transformer applications.
Most read stories...