BOOK: Conduct Risk Management, by Roger Miles
Written by (reviewer) Deborah Ritchie, Editor, CIR
2017-09-19
Conduct Risk Management
Roger Miles, Kogan Page, 2017

Practitioners often find themselves at a loss when it comes to dealing with conduct risk. Nonetheless, history has shown that it is an important topic to get to grips with. And with that, here is an engaging guide to understanding how regulators think and getting ahead of the elusive issue of conduct risk.

This perceptive book is a surprisingly pacey read. Author Roger Miles is a Doctor of Risk, and researches the contrary ways that humans often react to anyone who tries to change their behaviour. In commercial practice, Miles advises boards on risk governance, seeking to introduce tools that sharpen the perception of risk with the goal of building trust and protecting value through clearer decision making. Previously, he managed investor relations for a number of well known corporate brands and ran public risk communication initiatives for national government. Miles has written a number of highly regarded books and papers, and has collaborated with professional bodies including the BBA and IOR. His 2012 study of the corrupting of senior risk managers in banks accurately predicted the creation and behavioural agenda of the new regime of conduct regulators, starting with the FCA in 2013.

Engagingly written, Conduct Risk Management seeks to explain what really underpins conduct risk, offering an introductory guide to good behaviour and explaining where conduct regulators get their ideas from. It is not, as Miles makes clear from the outset, a technical compliance manual or framework, or academic text. "Conduct regulators don't want to publish checklists, either – for good reasons," the author notes. "Instead they (and you) will get on best when firms self-start their own initiatives to promote good behaviour."

With its application of and insights from behavioural science, students and practitioners of culture, conduct and ethics in financial services will find Miles' latest publication of particular interest and use.
Related Articles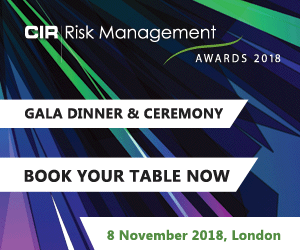 Download the latest
digital edition of
CIR Magazine
Power transmission and distribution risk
Description
Mark Evans talks to Barry Menzies, head of MIDEL ester-based dielectric fluids, at specialist manufacturer M&I Materials, to discover how ester fluids can help reduce the risks associated with transformer applications.
Most read stories...