BIBA scheme aims to help businesses minimise flood risk exposure
Written by staff reporter
2016-12-05
The British Insurance Brokers' Association (BIBA) has announced the launch of a new commercial insurance scheme for businesses that will also include flood cover for many commercial premises located in areas at risk from flooding.

BIBA has collaborated with insurance market stakeholders including flood risk specialists Landmark, broker Guy Carpenter and scheme provider and managing general agent, R&Q Commercial Risk Services to create the scheme. The co-operation has led to the creation of a product exclusively for BIBA members that will both help them meet the usual commercial insurance needs of their SME clients and provide flood cover for many businesses risks that are ineligible for Flood Re, the not for profit scheme launched this year which enables households at risk of flooding to access insurance.

The commercial scheme is backed by the A+ rated security of Lloyd's underwriting capacity and uses an advanced mapping facility developed by Landmark which pinpoints exactly the location and features of an individual property. Having this degree of specific and detailed risk reflective information allows each individual business or property to have insurance that is based on its own specific risk.

The scheme also offers additional customer choice, giving the option to 'buy-back' any flood excess that is applied because of the business location meaning customers can choose the amount of risk they want to bear themselves.

Steve White, BIBA Chief Executive said: "BIBA invested time in finding what our members needed to provide to business clients. We have been working closely with government ministers and their teams in relation to flood cover for some time. They were as keen as our members for us to find a solution for businesses struggling to access flood insurance. We are delighted that this scheme will now be able to provide protection for many of the businesses that have not been able to buy cover against flood damage."

Floods minister, Thérèse Coffey, said: "One year after last December's floods it's great to see the insurance industry now able to provide affordable flood insurance for small businesses and I particularly welcome BIBA's emphasis on helping customers adopt flood resilience measures so businesses get back in their properties and open sooner.

Quotes for the new product are available to BIBA members from 7 December and cover from 12 December. As well as including all of the usual insurance covers a business normally requires, it is flexible in its approach to flood cover. Mindful of the Government's 2016 budget commitment to invest increased revenues from Insurance Premium Tax in improving flood defences, quotations can be offered to many of the businesses that have been affected by flooding or which are at risk of flood. They will be offered both advanced flood mapping and an approach to underwriting that takes account of any flood resilience or resistance measures that the business has invested in.
Related Articles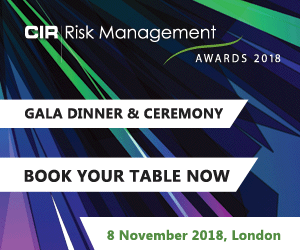 Download the latest
digital edition of
CIR Magazine
Power transmission and distribution risk
Description
Mark Evans talks to Barry Menzies, head of MIDEL ester-based dielectric fluids, at specialist manufacturer M&I Materials, to discover how ester fluids can help reduce the risks associated with transformer applications.
Most read stories...