BIBA outlines issues relating to Ogden discount rate
Written by staff reporter
2017-05-16
BIBA believes that urgent changes are needed in the way the damages discount rate is set. In its response to the Ministry of Justice's Damages Discount Rate consultation, the British Insurance Brokers' Association (BIBA) outlined some current deficiencies in the law to set the rate and called for urgent changes and for experts to be involved.

BIBA highlighted that problems with the existing law include:

• a heightened risk of under-insurance in liability classes;
• the need for insurers to, with little warning, radically change their reserving models and resulting increases in claims reserves;
• the potential upward pressure on customers' premiums as a result of expected increases in claims; and
• concerns around reduced capacity in the motor insurance market.

A number of examples of existing liability claims being increased significantly by millions of pounds have already been shared with BIBA.

BIBA recommended that as a result of these consequences the law in relation to the discount rate should be changed to provide greater certainty.

BIBA executive director Graeme Trudgill said the association wants claimants to receive fair and just compensation which needs to take into account equitable investment opportunities. "It is unlikely that many individuals would seek, or be advised to seek, to invest all of their lump sum payments in index-linked gilts," he commented. "We believe it is very unlikely that a prudent investor with appropriate advice would receive a negative return on investment.

"Using a deviation against a pre-agreed norm of a basket of low-risk mixed portfolio investments to trigger reviews may present better way of keeping the discount rate current with transitional arrangements to avoid swings in claims adjustment."

BIBA also believes that, although ultimately the decision rests with government, when considering discount rate changes, formal advice from experts and consultation with representatives of specified claimants and defendants groups should be sought. This would result in fair and appropriate adjustments.
Related Articles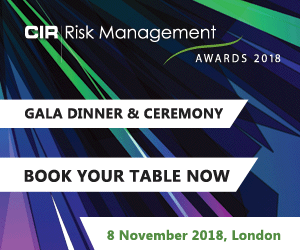 Download the latest
digital edition of
CIR Magazine
Power transmission and distribution risk
Description
Mark Evans talks to Barry Menzies, head of MIDEL ester-based dielectric fluids, at specialist manufacturer M&I Materials, to discover how ester fluids can help reduce the risks associated with transformer applications.
Most read stories...