Budget 2016: BIBA astonished IPT increase required to strengthen flood defences

Written by Deborah Ritchie
2016-03-16
BIBA has said it is "astonished" that the Chancellor decided that a further increase in IPT is required to strengthen the nations flood defences. Today's announced increase in IPT means that, year on year, insurance buyers face an increase in tax of 66.6% since March 2015.

Previous research by the AA, among 29,000 drivers found that 87% of motorists believed the tax was unfair and that increases will encourage some drivers to attempt to drive without insurance.

Steve White BIBA CEO said: "Let's be clear about this IPT is a tax collected and remitted by insurers, it is a tax on premiums paid by policyholders – motorists, householders, and businesses large and small. Whilst we support the additional spending on flood defences we believe that this could have been funded by the projected £1.5bn annual funds paid to the exchequer as a result in the increase in IPT put in place only last November which puts an increased burden on policyholders many of whom are suffering from ongoing flood damage. "

PwC, meanwhile, was more concerned about the prospect of gradual but frequent rate rises.

"Whilst arguably modest if viewed in isolation, this latest rate rise will mean IPT will have increased by two thirds in less than a year. Overall, this equates to an additional IPT cost of over £17 on the average motor insurance premium and around £13 on buildings and contents policies. It remains to be seen the extent to which this is passed on through higher premiums," said Ben Flockton, insurance tax partner at PwC. "This will undoubtedly fuel further speculation about the rate heading towards 20% to be aligned with the VAT rate as is already the case in some other countries such as Germany and the Netherlands.

"Perhaps of greater concern to many insurers is the prospect of gradual but frequent rate rises. This announcement follows only days after the full implementation of the last rate rise and implementing these changes entails significant and often expensive systems changes and administrative processes."

The impact on the customer was the focus of the reaction from Legal & General. Its managing director of partnerships, Mark Holweger, said this latest increase in IPT so soon after the last rate hike will ultimately impact the customer.

"Whilst a highly competitive market has meant that insurance premiums have been relatively low recently, with IPT rates rising again insurers will have no choice but to pass this cost onto consumers," he explained.

"Improving flood defences across the UK is certainly important, so we welcome extra revenues being diverted to that cause. As an industry we've benefited from several years worth of benign weather conditions, with the flooding we saw in 2015 more representative of a normal year. It is therefore vital that insurance companies are pricing for long term weather events.

Holweger stressed that whilst the increase in IPT is not as steep as many feared, it is paramount that the government and the insurance industry work together to insure that people aren't dissuaded from taking out policies, and the UK doesn't become a nation "at risk of being under-protected".
Related Articles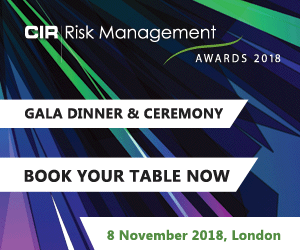 Download the latest
digital edition of
CIR Magazine
Power transmission and distribution risk
Description
Mark Evans talks to Barry Menzies, head of MIDEL ester-based dielectric fluids, at specialist manufacturer M&I Materials, to discover how ester fluids can help reduce the risks associated with transformer applications.
Most read stories...