Aon study confirms heightened terrorism risk in West
Written by staff reporter
2015-05-26
Risk levels are rising in Western economies due to the increased terror threat presented by Islamic extremists according to the Aon Terrorism and Political Violence Map. Launched today by Aon Risk Solutions and The Risk Advisory Group, the map provides insight for business aiming to reduce risk exposures.

Nine developed economies (Australia, Belgium, Canada, Denmark, Estonia, France, Germany, Ireland and Norway) are all rated at increased risk. Many of these rises are largely due to increased terrorism threats, most of which stem from the rising influence of ISIL as well as the ongoing threat from al-Qaeda affiliates and supporters.

Top risks for business include increased terrorism threats across developed economies, and a progressively uncertain and dangerous geopolitical environment, where the risk of armed conflict is growing amid changing and unstable regional balances of power.

Scott Bolton, director, business development and network relations at Aon Risk Solutions said, "The Aon Terrorism and Political Violence map is a key analytical source which helps our clients understand terrorism risk exposures across the globe. It is interesting that Europe is at significantly greater risk from the rise of the Islamic State. Businesses need to understand how they can mitigate against this risk in affected countries as well as build terrorism insurance programmes that align more closely with their exposure."

The map shows a mixed picture, with a net reduction on country risk ratings worldwide, but with political violence and terrorism risks concentrating and intensifying around a smaller number of countries. The risk rating was reduced in 21 countries and increased in just 13. The global picture is also one of marked polarity, with clusters of concentrated risk across South Asia (namely Afghanistan and Pakistan), North Africa and the Middle East.

Commenting on the findings, Henry Wilkinson, head of intelligence and analysis at The Risk Advisory Group, says: "This data highlights that terrorism and geopolitical uncertainty are risks that businesses cannot ignore – and they are as relevant to developed economies as to emerging markets. In a hyper-connected world faraway problems can affect local threats and political violence can spread rapidly with little warning. However a high level of risk doesn't automatically mean that these areas are closed for business. Companies can exploit the opportunities in any market with high quality intelligence and analysis, and a strategy to navigate and manage the risks."

Key findings

-21 countries at reduced risk of terrorism and political violence
(Albania, Bangladesh, Barbados, Bhutan, Brazil, Costa Rica, Croatia, Cuba, Czech Republic, Egypt, Fiji, Guyana, Honduras, Kyrgyzstan, Mauritania, Mongolia, Morocco, Mozambique, Panama, Tunisia and Uzbekistan)

-13 countries at increased risk from terrorism and political violence
(Australia, Belgium, Canada, Denmark, Estonia, France, Germany, Ireland, Lesotho, Norway, Saudi Arabia, Tanzania and Ukraine)

-South America sees the most positive results, with the risk level falling in seven countries across the region, including Cuba and Honduras which have both seen the first drop in risk of the decade. This reflects counter-terrorism progress and moves to end long running conflicts in Colombia and Peru. No countries in Latin America are rated at increased risk in 2015, highlighting the potential for business investment across the continent.

-Elevated geopolitical tensions in parts of Eastern Europe and Eurasia contributed to two increased risk scores in the region – Ukraine and Estonia. Russia's military manoeuvres and increase in military spending mean that the potential for further armed conflict in the area is no longer unthinkable, yet the overall outlook in the rest of the region is moderately positive, including in Central Asia with three reduced risk ratings.

-Sub-Saharan Africa is home to the most countries at high risk (16), with discontent over government and socio-economic problems driving civil unrest and conflict, creating a 'triangle of risk' stretching between Nigeria, Somalia and Libya. However, by contrast, Southern Africa stands out as a sub-region of relative stability. There is a similar picture across the Middle East, with a wide gap in risk between the stable, wealthier Gulf states and the Levant, Yemen and Bahrain.
Related Articles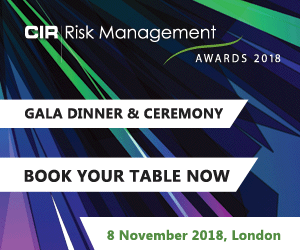 Download the latest
digital edition of
CIR Magazine
Power transmission and distribution risk
Description
Mark Evans talks to Barry Menzies, head of MIDEL ester-based dielectric fluids, at specialist manufacturer M&I Materials, to discover how ester fluids can help reduce the risks associated with transformer applications.
Most read stories...