Aon: Apprenticeships could boost insurance talent pool
Written by staff reporter
2014-10-16
Polling by Aon indicates young people are not fully aware that apprenticeships are available across a breadth of high-skilled sectors including insurance. Almost half (45%) of the respondents surveyed by Aon would consider a career in financial services, but awareness of opportunities for apprenticeships within the sector ranked among the lowest identified, with young people revealing that they did not know opportunities were available in actuarial science (85%), insurance (60%) or accountancy (55%).

Awareness of apprenticeships was highest for traditional manual and service industry trades, with over two-thirds of respondents confirming they understand apprenticeships exist within industries such as hair and beauty (66%) and construction (64%). By contrast, young people are still aware of the opportunities for vocational training in careers that may have traditionally required a degree.

Of the 1,000 16-19 year olds surveyed by Aon, nearly two-thirds said that they would now consider taking up an apprenticeship – an encouraging shift in traditional attitudes towards apprentices as a part of the professional training mix which includes university education. The largest number of respondents cited 'faster career progression' (22%) as the primary motivation for their interest in apprenticeships, a further 19% believed apprenticeships would help get their feet in the door, whilst 18% were driven by the opportunity to earn while they learned.
Aon has committed to investing £4.6m in apprenticeships over a 5 year period. The firm has already invested £1m, and has pledged a further £3.6million to support apprenticeships until the end of 2016. 

The survey also offers insight into who influences young people about apprenticeships. Almost eight in 10 young people (77%) look to schools, colleges and careers offices for information about apprenticeships, 60% look for information online and more than a quarter (27%) seek information from their family and friends. These influencers are critical to helping young people appreciate the opportunities apprenticeships can offer and the success stories they inspire.

"As a global firm committed to growing the number of apprenticeships worldwide, we are encouraged to see increasing acknowledgment among young people of the great career opportunities an apprenticeship offers," said Dominic Christian, CEO of Aon UK. "We want apprentices to truly represent today's economy. The challenge now is to ensure those advising young people are aware of the contemporary opportunities available. We will continue to work with our industry partners and other critical stakeholders to build awareness of how apprenticeships can help meet the needs of British industry and produce the next generation of UK talent."

Companies across the insurance and risk management industry joined together earlier this year to launch an apprenticeships scheme designed to grow the number of apprentices at firms across the country. Working with the government, and informed by its 'trailblazer' training curriculum scheme designed to raise standards and align apprenticeships to the needs of business, the industry developed a systematic framework of skills to ensure that insurance apprentices receive the same rigorous training and qualifications wherever they work.

This week, the industry will continue to advance this effort with the launch of the Insurance Apprenticeships Network at the soon-to-be opened Leadenhall Building, the future global headquarters of Aon.
Related Articles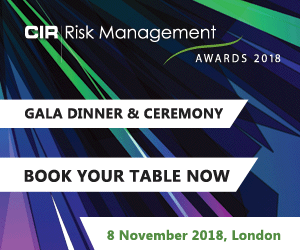 Download the latest
digital edition of
CIR Magazine
Power transmission and distribution risk
Description
Mark Evans talks to Barry Menzies, head of MIDEL ester-based dielectric fluids, at specialist manufacturer M&I Materials, to discover how ester fluids can help reduce the risks associated with transformer applications.
Most read stories...