Airmic welcomes Pool Re progress
Written by staff reporter
2014-11-24
Airmic has welcomed the decision by Pool Re to implement far-reaching changes in the way the scheme operates. The association believes the reforms, agreed last Friday, will make Pool Re more attractive to business as well as diversifying its risk base.

At Friday's EGM, members of the terrorism reinsurer voted to support a more flexible approach to setting premiums and terms. The move has the support of HM Treasury, which underwrites the scheme as reinsurer of last resort.

Whilst the details have still to be determined, Pool Re has said it will evolve to a system that better reflects the risks inherent in individual businesses. This will include recognition of good risk management, a willingness to accept higher deductibles and greater reflection of differences in exposure to terrorist threats. There will be streamlined access to Pool Re for small businesses.

"We wholeheartedly welcome Pool Re's new approach," said the association's chief executive John Hurrell. "It's a big step forward into the 21st century. It will make the scheme an even more valued protection against the threat of terrorism to UK businesses and also to many public sector organisations. These are the sort of changes that Airmic members, who are among the biggest end-users of Pool Re, have been urging for several years. Pool Re's management are to be congratulated on staying with them despite the very difficult pressures they face in terms of increased payments to the UK Treasury.

As well as purchasing terrorism cover from Pool Re through their Property insurers, many Airmic members do so through their own captive insurance companies.
Related Articles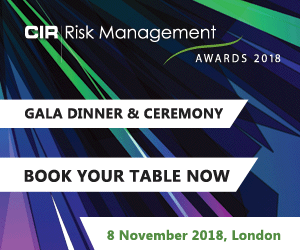 Download the latest
digital edition of
CIR Magazine
Power transmission and distribution risk
Description
Mark Evans talks to Barry Menzies, head of MIDEL ester-based dielectric fluids, at specialist manufacturer M&I Materials, to discover how ester fluids can help reduce the risks associated with transformer applications.
Most read stories...