Airmic 'deeply concerned' over discount rate fall
Written by staff reporter
2017-02-28
Airmic has expressed concern over the impact on commercial policyholders of the reduction in the Ogden rate announced by the Ministry of Justice (MoJ) this week. Deputy CEO Julia Graham said the association supports the need for the discount rate to reflect a fair compensation system, but that it is "deeply concerned about the timing and scale of the change" and the impact on businesses. "Not only has the industry not been appropriately consulted, the decision is based on a formula in desperate need of reform," she said.

Graham noted that yesterday's announcement came just four months before a significant rise in insurance premium tax (IPT) comes into force: "In a challenging market for insurers, the cumulative effect of these changes will inevitability feed through into price rises for policyholders. The impact won't be felt overnight but slow-burn issues can be more damaging in the long run as they are less visible."

Graham called on policymakers to consult more widely and to reconsider its IPT strategy. "The pattern we are seeing is that far-reaching decisions that will ultimately impact the end buyer are being made in isolation. We urge policymakers to take a holistic view of how these changes add up and, in light of yesterday's announcement, we ask the Chancellor to refrain from further IPT rises this year.

"In a low growth environment, it can be a challenge for our members to justify insurance premiums to their business, and even a small impact on price could have a disproportionately negative impact on insurance purchase," she added.

The Ogden rate refers to a discount rate used to determine lump sum compensation to claimants who have suffered life-changing injuries. The MoJ announced yesterday that the rate will fall from 2.5% to -0.75%, a much larger change than expected by the industry.

The IPT is set to rise from 10% to 12% this June, as announced by the Chancellor in the Autumn Statement.
Related Articles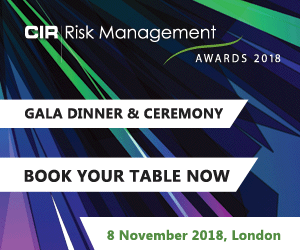 Download the latest
digital edition of
CIR Magazine
Power transmission and distribution risk
Description
Mark Evans talks to Barry Menzies, head of MIDEL ester-based dielectric fluids, at specialist manufacturer M&I Materials, to discover how ester fluids can help reduce the risks associated with transformer applications.
Most read stories...