Airmic: The risk professional's time is now
Written by staff reporter
2016-11-10
Today's risk managers have a unique chance to raise the status of their profession, according to Julia Graham, deputy CEO of Airmic. Speaking at Airmic's inaugural ERM Forum, a one-day conference dedicated to risk management, Graham said that business trends and regulatory trends are aligning to offer the perfect conditions for risk professionals to add value.

"The growing complexity of today's business environment and the ever-increasing demands placed on boards mean that senior management are taking a growing interest in risk. CEOs are under pressure from regulators to take ownership of risk management and are turning to risk professionals for advice as a result."

Graham said that this is a huge opportunity for the risk community to increase their contribution. "Boards are reaching out to risk professionals but risk professionals must also reach out to their boards. It's about risk managers adding value to the business and transforming the profession."

This year has marked a development in strategy for Airmic to increase its risk management offering for members. Risk management initiatives have always been on the association's agenda but they are being stepped up a gear, starting with this month's ERM Forum which is likely to become an annual fixture.

Graham said the conference was designed to give risk managers the tools to be effective at a more strategic level. "Risk managers have a unique chance to shine but they need the skills and knowledge to translate their technical expertise into strategically useful information. That is what today is about."

The conference heard from Nik Gowing, visiting professor at King's College, London, who argued that a proliferation of "unthinkable" events over the past few years has revealed a new fragility in the world order.

Gowing, co-author of CIMA report, 'Thinking the Unthinkable', said that risk professionals need to be encouraged to challenge senior management. "There is a core need to accept constructive challenge within institutions. Too often risk professionals are expected to conform and only to challenge within certain parameters."

Gowing argued that businesses are in denial about the enormity of global changes occurring at rapid speed. Recent events such as Britain's vote to leave the EU and the election of Donald Trump as US president were all foreseeable events, he said. "There is an inevitability about a lot of what is happening."

He challenged risk managers to be less conformist: "Is your risk register so narrow as to be irrelevant? Is it a risk register that conforms? You need to think the unpalatable, that is central to what you put on your risk registers," he urged.
Related Articles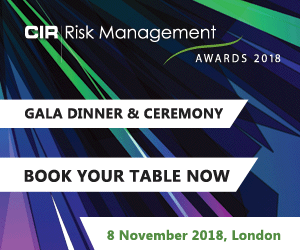 Download the latest
digital edition of
CIR Magazine
Power transmission and distribution risk
Description
Mark Evans talks to Barry Menzies, head of MIDEL ester-based dielectric fluids, at specialist manufacturer M&I Materials, to discover how ester fluids can help reduce the risks associated with transformer applications.
Most read stories...