London Market companies reveal key business priorities and challenges

Written by Deborah Ritchie
2017-09-28
The soft market, Brexit and regulatory compliance are the top three issues faced by London Market companies, according to a survey of International Underwriting Association members. IUA members also cited the IT/cyber revolution, the challenge of innovating new products and the recent change in the UK discount rate as major business challenges.

When it comes to Brexit, mutual market access, enabling businesses in the UK and the remaining 27 EU states to trade freely, was the most important objective. This was followed closely by the early agreement of a Brexit implementation period and the signing of new trade agreements between the UK and other countries.

Dave Matcham, chief executive of the IUA, said the results have given the association new areas of potential focus as members outlined the most important emerging risks for insurance coverage: "Cyber and artificial intelligence, as expected, were prominent, but many other issues were also listed, for example climate change, e-cigarettes and 3D printing. Perhaps the most pertinent answer to this question was from the respondent who simply stated 'so many'."

In another section of the IUA survey, members were asked to rank the importance of different legal and regulatory topics. The top two priorities were unchanged from 2014: international sanctions and regulation by the Prudential Regulation Authority/Financial Conduct Authority. However, the third most important issue is now data protection, having not been mentioned at all three years ago.

Respondents were also asked to rank the importance of seven projects aimed at improving business processing in the London company market. Structured data capture was identified as the top priority, finishing ahead of electronic placing and enhancements to electronic claims files.
Related Articles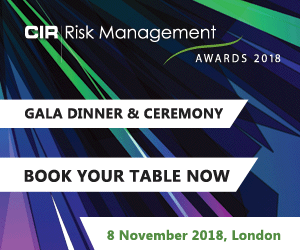 Download the latest
digital edition of
CIR Magazine
Power transmission and distribution risk
Description
Mark Evans talks to Barry Menzies, head of MIDEL ester-based dielectric fluids, at specialist manufacturer M&I Materials, to discover how ester fluids can help reduce the risks associated with transformer applications.
Most read stories...