2017 risk predictions: Political, cyber, bribery among key concerns, says IRM
Written by staff reporter
2017-01-05
Political risk, cyber security, bribery and oil price and financial markets fluctuations are among chief concerns for businesses voiced by some of the UK's leading risk experts as they look ahead to 2017.

Nicola Crawford, CFIRM, Chair of the Institute of Risk Management says in this environment, enterprise risk management has never been so crucial.

"2017 is undoubtedly the year where political risk on the global scale will be one to watch, the effect on markets is unknown with the City of London and the wider stage braced for a hard Brexit and also the fall out of changes to American and European political leadership," Crawford added.

"Enterprise risk management has never been higher on the agenda; organisations need to ensure that risk in the boardroom is taken seriously to ensure organisational success and longevity.

"Factors in both the micro and macro environment should be constantly scanned against a company's risk register, business continuity plans tested and stress tests conducted – reputational risk is also a major factor and examples of how not to manage this have been widely reported in the media."

Disruptive business models, the Internet of Things and the impact of a more connected world will all be factors changing the way we work, she explains. "Although these are exciting times, the role of the risk manager has never been more important, with many opportunities and challenges for business.

The Global Economy continues to be a risk for a number of reasons including oil prices, Brexit, possible Grexit and a slowdown of the BRICS (Brazil, Russia, India & China) economies.

Commenting on supply chain risks over the coming year, director of corporate relations at the IRM, Carolyn Williams, said that according to the Risk Index produced by the Chartered Institute of Purchasing and Supply together with Dun & Bradstreet, the level of risk faced by global supply chains is moving rapidly upwards as we enter 2017.

"Firms have long been conscious of the need to manage their supply chains to ensure continuity and efficiency, but recent years have seen two significant shifts," she explains. "First the trends towards globalisation, outsourcing, offshoring and specialisation have introduced an additional degree of complexity and uncertainty to supply networks. And secondly, widespread adoption of social media and rapid means of communication mean that reputation is constantly exposed. One recent tweet by Donald Trump, questioning the cost of the US F-35 fighter jet project, knocked more than £4 billion in one day off the value of the three defence companies concerned, including BAE Systems. Organisations are increasingly called to public account for their decision-making, which includes the behaviour of those with whom they choose to do business, directly or indirectly. All organisations need to be alert to issues of supplier viability, robust contracts, disruption from natural catastrophes, fraud, bribery and corruption, slavery and working conditions."

Williams says the recent disintegration of the political consensus in respect of globalisation and trade introduces even more instability and that the first step towards managing these risks is understanding them. We would expect to see a rising interest in mapping, quantifying and modelling risk exposures beyond simple supply chains to the complex extended enterprises that deliver goods and services across the world today.

Chief executive of the IRM, Ian Livsey, said risk knows no boundaries. "2017 brings its own particular risks with Brexit, political change, cyber crime / security and financial risk. Risk is embedded in all facets of our lives and organisational risk is no different – the nature of risk is changing as is evident by today's macro and micro environments. Risk in inherent in everyday lives and it is fascinating to see just how far this reaches across industries around the world".
Related Articles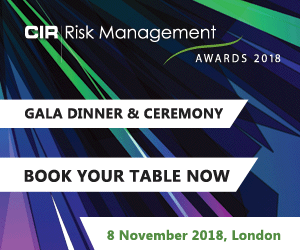 Download the latest
digital edition of
CIR Magazine
Power transmission and distribution risk
Description
Mark Evans talks to Barry Menzies, head of MIDEL ester-based dielectric fluids, at specialist manufacturer M&I Materials, to discover how ester fluids can help reduce the risks associated with transformer applications.
Most read stories...