Winter storms continue to impact businesses and public in Eastern US
Written by staff reporter
2015-02-18
Severe winter storms are continuing to affect businesses and the public in Boston and the Eastern US, with some hospital workers even asked to spend the night rather than be snowbound at home. School closures have been so numerous that Massachusetts public schools are currently scheduled to remain in session until June 30. Airlines have been heavily impacted with hundreds of flight cancellations and delays although operations are resuming.

According to catastrophe modelling firm AIR Worldwide, since the blizzard of January 26-28 dumped up to 36 inches in the Boston area, the region has been hit by a series of storms that have delivered significant snow totals. As of Tuesday, February 17, Boston had received 90.2 inches of snow since January 23, breaking the record for snowfall amounts over such a short period of time. The seasonal snow average for this time of year is just over 40 inches.

Many other eastern states have experienced snow and freezing temperatures as well, with resulting damage and disruption affecting a large population. The weather has also proven deadly with record low temperatures, snow clearing, and weather-related traffic accidents claiming several lives throughout the eastern US.

"The stationary jet stream has continued to bring low pressure systems to much of the central and eastern U.S. On February 2, winter storms dumped 12 to 18 inches of snow in the Midwest before heading east where they dropped up to two feet of snow in the Boston area, which was already buried from the nearly three feet of snow from the January blizzard," said Dr. Tim Doggett, senior principal scientist at AIR Worldwide. "A large region from New York City northward into all parts of New England was affected."

Doggett continued, "The systems are bringing extremely cold temperatures as well as snow, along with very strong winds. (Meanwhile, an upper level ridge is keeping the western states warmer and drier than usual.) The cold temperatures have kept the water content of the snow lower than is typical for coastal areas, resulting in a high 'fluff factor' that causes a large accumulation of lightweight snow. At the same time, fierce winds have created enormous snow drifts, making snow removal difficult even with the lightweight snow."

Snowfall amounts have crippled other cities as well as Boston. Worcester, Massachusetts, has received 103 inches; Bangor, Maine, 100.5 inches; and Portland Maine, 79.6 inches, while 71.6 inches has fallen in Burlington, Vermont. In New York, Buffalo has received 96.3 inches; Syracuse, 86.4 inches; Albany, 68.8 inches; Binghamton, 70.9 inches; and New York City, 21.1 inches. Providence, Rhode Island, has received 52.1 inches, and Hartford, Connecticut, 46.8 inches.

According to AIR, due to its light weight, the most recent snowfall in the Northeast has generally resulted in lower roof snow loads than would normally be expected. Snow accumulation has also increased the risk of ice damming, as snow melts on roofs and refreezes. Slick roads and whiteout conditions have affected traffic with a pileup of 40 vehicles occurring near Watertown, New York, on February 7. A few days later, a 20-car pileup occurred on a freeway in Waltham, Massachusetts, while a 40-car pileup occurred in Chicago that same day.

Downed power lines and falling trees reported in the Carolinas, caused about 50,000 homes to lose power. A burst water pipe at Dulles International Airport in Virginia, which services the Washington, DC area, has caused many flights to be diverted to other airports.

The impact in Boston has been so severe that the city's ability to function has been quite challenged. Roads in Boston have been narrowed due to the large snow banks, causing the city to enforce one-way streets along those that normally run two ways. Plows have been called in from other cities to assist with the massive cleanup and large 'snow farms' where excess snow is carried are reaching capacity.

The city's beleaguered subway system, run by the Massachusetts Bay Transportation Authority (MBTA) has operated on a limited schedule since January 26. The system was shut down entirely during storms and some days following as crews struggled to clear snow from the tracks. Shuttle buses have replaced the entire rail system on Boston's South Shore, causing passengers to wait for long periods of time in bitterly cold temperatures. The transportation shutdowns impacted businesses, as people were unable to travel to offices, shops, and restaurants. In many hospitals, workers were asked to spend the night rather than be snowbound at home.

The school closures have been so numerous that Massachusetts public schools are currently scheduled to remain in session until June 30. As of February 11, the danger of roof collapses has kept schools closed in several communities around Boston including Somerville, West Newbury, and also in the Pentucket Regional district. Schools in other states including Pennsylvania have also closed recently due to the cold temperatures.

Airlines have been heavily impacted with hundreds of flight cancellations and delays although operations are resuming. While the fierce winds of the January blizzard caused 97% of Provincetown, Massachusetts, to lose power for a few hours, power outages have not posed a major problem in eastern Massachusetts during the subsequent storms.

According to AIR, in the Northeast, design snow loads for roofs are on the order of 20 to 50 pounds per square foot. Many old buildings in the Northeast may not meet the current code, however, which could increase the total damage. Also, other building elements — porches, carports, awnings, and gutters — which often do not receive any specific design attention, are vulnerable to heavy snow loading. Engineered structures must conform to high load tolerances, and damage to these structures would be expected to be less. The roofs of marginally engineered structures (such as small businesses, convenience stores, garages, barns, warehouses, etc.) can collapse under large accumulations of snow, particularly if their roofs have not been well-maintained. Ice dams can also form as rooftop snow melts and refreezes. Also, heavy snow and strong wind can result in downed trees, causing damage to structures and automobiles, as well as downed power lines and power outages. Because of the cold temperatures throughout the Northeast, areas with long-duration power outages and lack of heat may experience frozen pipes.

Doggett concluded, "The current weather pattern is expected to continue this week. On Tuesday, February 17, a mix of snow, sleet, and ice affected a region from Kansas to North Carolina. As of yesterday morning, 11 inches of snow had fallen in Lexington, Kentucky, with up to 14 inches forecast for some areas. Up to 10 inches fell in parts of southern Indiana, and up to 7 inches in Nashville, Tennessee."

In New York City's Central Park, the temperature dropped to 3°F on February 16, nearly reaching the record of 1°F set in 1888. A temperature of 3°F was also reported at Philadelphia International Airport, whose record for the coldest temperature is 2°F. In Saranac Lake, New York, the temperature was -30°F. An arctic front on Wednesday brought the coldest temperatures in a decade across the east, including the Southeast.

State of emergency declarations were put in place for North Carolina, Virginia, Mississippi, Georgia, Kentucky, Tennessee, and Washington, D.C. Schools have been canceled in several of these states, and five inches of snow in Washington, D.C., caused the federal government to close.

At least 200 flights were canceled at Reagan National Airport in Virginia, which services the Washington, DC, area. Over 220 flights were canceled at Charlotte Douglas International Airport in North Carolina, and at least 185 flights were cancelled at LaGuardia Airport in New York.
Related Articles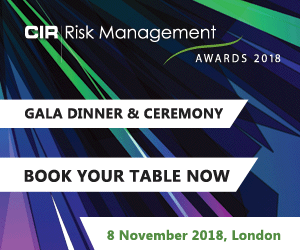 Download the latest
digital edition of
CIR Magazine
Power transmission and distribution risk
Description
Mark Evans talks to Barry Menzies, head of MIDEL ester-based dielectric fluids, at specialist manufacturer M&I Materials, to discover how ester fluids can help reduce the risks associated with transformer applications.
Most read stories...