IRM welcomes government's cyber curriculum move
Written by staff reporter
2017-02-13
The Institute of Risk Management has welcomed an announcement made by the Department for Culture, Media and Sport recently that it will be providing £20m for cyber security lessons in schools, which will be designed to fit around pupils' current courses and exams.

IRM chair, Nicola Crawford, said: "The IRM applauds the government's initiative to offer cyber security lessons in schools in England. Preparing Britain for the future challenges posed by cyber security threats is an important step in the right direction.

"We live in an increasingly networked world, from personal banking to government infrastructure. Protecting those networks is no longer optional – the internet of things means enterprise wide risk management, including cyber security policy, has never been more important," adding that cyber risk is now firmly at the top of the business agenda globally as high-profile breaches raise fears that hack attacks and other security failures could endanger the global economy.

"Today organisations are increasingly recognising that they are insufficiently prepared to protect themselves against cyber attacks. And as Robert Hannigan, director of GCHQ recently revealed that the UK is hit by 60 major cyber raids a month, it's not surprising that governments and businesses are searching for better cyber defence strategies," she concluded.

Up to 5,700 pupils aged 14 and over will spend up to four hours a week on the subject in a five-year pilot.
Related Articles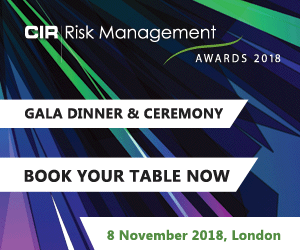 Download the latest
digital edition of
CIR Magazine
Power transmission and distribution risk
Description
Mark Evans talks to Barry Menzies, head of MIDEL ester-based dielectric fluids, at specialist manufacturer M&I Materials, to discover how ester fluids can help reduce the risks associated with transformer applications.
Most read stories...