Willis International appoints new CEO
Written by Editor
2011-04-15
David Margrett has been appointed CEO of Willis International.

Margrett, who has been a senior executive at Willis for the last seven years, will work alongside Sarah Turvill, chairman of Willis International, to focus on driving the division's growth.

Since joining Willis in 2004, Margrett has held a number of senior positions, including chairman and CEO of Global Specialties and of Willis Limited, chairman of Faber & Dumas (the group's International third party wholesale business) and most recently, president and COO of Willis Global. Prior to joining Willis, he was chief executive of insurance broker Heath Lambert which has operations in 80 countries.

Willis Group chairman and CEO, Joe Plumeri said, "Sarah Turvill's leadership of our International business is a continuing story of dramatic growth. As we turn a new chapter in that story, David Margrett joins Sarah to maintain and magnify that momentum moving forward. We're excited about the expanded capabilities for clients and the business possibilities that will arise when David brings his global specialties insight and expertise to our international network."
Related Articles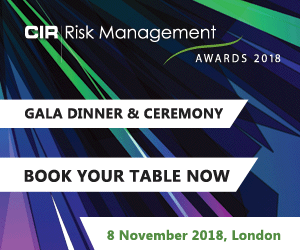 Download the latest
digital edition of
CIR Magazine
Power transmission and distribution risk
Description
Mark Evans talks to Barry Menzies, head of MIDEL ester-based dielectric fluids, at specialist manufacturer M&I Materials, to discover how ester fluids can help reduce the risks associated with transformer applications.
Most read stories...