What's the big idea?
Written by Adam Bernstein
February 2014
How are companies protecting their ideas, their products, and ultimately the lifeblood of their business? Adam Bernstein examines the intellectual property landscape

Intellectual property has long been a growth business. The first piece of UK legislation to provide for copyright protection via the government and the courts goes back to 1710, through the enactment of the Statute of Anne. Over 300 years later, protections are offered for numerous intellectual property rights including trademarks, patents, design rights and database rights.

The ramifications for IP theft range from direct and indirect financial loss through to categorically dangerous. The UK's IP Crime Annual Report 2012-2013, published by the Intellectual Property Office, details a number of examples where theft of IP has bordered the somewhat sinister, including fake BMW airbag devices that turn steering wheel components into 220mph projectiles, and counterfeit vodka with 20 times the safe limit of methanol, which, not surprisingly, can kill.

The Internet adds yet another dimension to IP risk. The World Economic Forum's Seven Principles for Adapting to the New Digital World, details a WEF call for global action to address the borderless nature of digital media and the low awareness of laws covering digital content that Internet users have.

Risk analysts at Zurich estimate that IP accounts for a higher percentage of market cap than tangible assets. In its 2012 report, Managing Intellectual Property Risks Around the World, the risk analyst puts the value of IP in the US at 45 per cent of GDP.

The OECD believes companies can boost their stock market valuations and lower their cost of capital through improved reporting of intellectual assets and value creation strategies that overcome the limits of accounting standards.

In some sectors, trademarks and designs, and thus brand identity are the very lifeblood of the business. As Claire Bailey, an associate in DLA Piper's IP practice, and former brand protection lawyer for LOCOG points out: "You can see this with the Forbes list of the world's most valuable brands, which, for example, in 2013 estimated the brand value of the top ten companies as being between US$28 billion to just over US$100 billion."

That same list ranks Apple as number one with an estimated brand value of US$104.3 billion. Given the huge value listed in company balance sheets attributable to IP, infringement of such rights can have a significant impact on the financial status of a business. In a recent case in July 2013 in Canada where the Federal Court granted the largest award of damages for patent infringement in Canadian history.

In Merck & Co, Inc v. Apotex Inc, the court found that Merck was entitled to over CAUS$119m in damages, plus interest, for Apotex's infringement of Merck's patent for the anti-cholesterol drug Lovastatin.

The world of IP law is always changing. Fifty years ago, claims mainly involved oil, 10 years ago biotechnology, now it's the Internet.
In the case of the patent troll, these are individuals or groups of individuals that themselves don't make anything, rather they just buy up patents and firms with those patents and make money via litigation.

And the speed of transmission and non-geographic nature of the Internet is also a contributing factor, according to Stephen Sidkin, a partner at law firm Fox Williams. "One of our clients refused to allow us to register a South Korean domain name for his product – only the trademark was registered," he explained "Within two hours...someone else had registered the domain name in South Korea." Sidkin says his client had to buy out the domain name holder as it was faster and cheaper than following the official processes for obtaining the domain.

Who polices IP?

Globally, World Intellectual Property Organisation (WIPO), an agency of the UN is the body that aims to protect copyrighted material through a number of treaties and conventions. The World Trade Organisation has since 1995 negotiated trade agreements around world and has its own processes of protection. Each nation has its own laws on the subject.

The UK sought to bolster the protection in the online sphere through the implementation of the Digital Economy Act 2010. This inserted provisions into the Communications Act 2003 to require Ofcom to publish a code to regulate "initial obligations" of ISPs to tackle copyright infringement for example by providing infringement lists to copyright owners. Presently there's a new Intellectual Property Bill wending its way through Parliament that introduces, amongst things, a criminal sanction for intentional copying of registered designs and works towards a single EU patent.

In the US, the Digital Millennium Copyright Act implements two treaties from WIPO and criminalises production and dissemination of products, technology or services that are designed to bypass digital rights management.

Matt Webb, head of technology and data risks at insurer Hiscox, says of IP infringement: "Within the area of technology, after claims for breach of contracts between firms, IP breaches are our second most important area based on the number of claims." And by value their importance is greater.
It may not come as a surprise that the downloading of copyrighted works from the Internet is the most obvious form of IP theft and infringement.

However, Bailey believes that misappropriation of IP can happen in other ways – typically resulting from a lack of clarity or protection in relation to the IP that has been created. "A common issue is where an inventor or IP owner meets with a third party to discuss a joint venture and/or potential IP exploitation with that third party without putting in place the necessary protections." For this reason, he believes Non-Disclosure Agreements (NDAs) to be vital.

Perhaps unsurprisingly, Apple is an enthusiastic user of NDAs. Anyone wanting to develop apps for Mac or iDevices needs to agree to an NDA before access is granted to a developer account.

Off the clock?

Problems surrounding IP also arise in an employer/employee context, for example, when an employee leaves an organisation, or, where an employee invents or creates IP in after work hours or over the weekend. Home Retail Group has a clause in some of their employment contracts that claims ownership over anything created – at home or at work.

The key seems to be to define what is knowledge gained on the job (which is not protectable by the company) versus confidential information and trade secrets of that business (that can be protected). "The scope of IP owned by an employer that is created by an employee is likely to be broader where the role of the employee is to create IP. However, the parties should take time to identify the types of IP that could be created and to consider any necessary clarifications to avoid uncertainty later on," DLA's Bailey explains.

Webb also notes that more general employee related risks also present a considerable threat. He's seen numerous examples where a team of employees has left one firm to go a rival to work on a competing product, and cites the case of Koger Inc and Koger (Dublin) Ltd v HWM Financial Solutions Ltd and Others, to illustrate how cases can have a ripple effect into other risk areas. While this particular case was concerned with an alleged infringement, it also served to cast a pall over HWM, making subsequent client acquisition difficult.

IP law can also be used tactically. Two of the most recent high-profile examples involve two of the world's biggest firms, Apple and Samsung, which have been battling in the courts for years over IP in cases brought in the South Korean, Japanese, German, French, Italian, Dutch, Australian, British and US courts. Apple has had spats with other firms including Motorola Mobility (bought by Google in 2012 but sold in January 2014 to Lenovo).

Where does IP lie?

Software encompasses all IP – copyright, patents, design and database rights as well as trademarks. So in an IT context, is the protectable work in the precise coding of the software or in the underlying functionality? The distinction is important. Webb points to a 2013 case, SAS Institute Inc. v World Programming Ltd, that the Court of Justice of the European Union ruled on in January 2013. The ruling fell on the side of coding rather than functionality.

It is as a result of this case that Webb believes that anyone developing a product should, if using developers with a direct link to a rival, should brief coders with the principles and project aim, but not actually code themselves so that the new development is based on fresh and independent thinking.
DLA's Bailey adds that software can also be protected by patent protection in certain circumstances. However, a patent can only be granted for "an invention" and with the exclusion in the UK made by the Patents Act 1977 for "a program for a computer" the picture is less than clear. Case law continues to grapple with how this exclusion should be interpreted.

The consideration of whether the software makes a "technical contribution to the art" was considered recently in HTC Europe Co Ltd v Apple Inc. In this case, the issue the invention was trying to solve was "how to deal with multiple simultaneous touches on one of the new multi-touch devices". The solution lay in "a method of dividing up the screen of such a device into views and configuring each view as a multi-touch view or a single-touch view using flags with a specific functionality". It was found that the effect was technical in nature, providing a practical benefit by "presenting a new and improved interface".

The Intellectual Property Office confirmed in guidance produced in January this year that "it remains the case that while an invention involving a computer is undoubtedly 'technical', in law the mere presence of conventional computing hardware does not of itself mean an invention makes a technical contribution and so avoids the computer program exclusion."

Assessing the risk

Given the often enormous R&D spend involved with obtaining a registered patent, the impact of an infringement of a patent may be an even more considerable risk, even though infringement may not be as common as infringement of soft IP rights.

Sam Bobo, a director at Samian Underwriting, which specialises in IP, illustrates the changing regional emphasis of the IP disputes and risk. "The US has always been the leader in litigation over patents, but now we're seeing a lot of litigation in China – now they're on a par with the US." Bobo says that in the past, the Chinese were known as 'copiers' who would reverse-engineer products and make their own versions. But now the quality of the products being shipped back to the west is improving considerably. Indeed, Bobo is seeing regular requests from firms buying from the Chinese looking to be indemnified against any breaches of territorial licenses.

Sidkin also considers China the biggest risk geography: "While China is changing, it's not fast enough in my opinion. They are meant to be putting new laws in place, but there are issues as to enforcement and the rule of law."

"A lot of the cost derives from the need to defend which in turn is based on whether an infringement happened and whether the infringement was intentional," says Webb.

He says that in many cases infringement is unintentional. In one case an advertising agency paid to licence a given piece of music for a television advertisement, which, on airing, featured a different piece of music. In another case, a firm had licensing rights for one territory, but for whatever reason, exploited the rights in a different region. Firms can also find themselves in hot water when they purchase a licence for a version of software but not all future versions of software.

The job of the underwriter is an increasingly complex one in this area of cover. "Once it was a question of asking if a firm had any IP and then offering a rate – it was as simple as that," Bobo explains. "If it's a widget, I can see it and make a judgment. But other [more intangible] products such as biotechnology [are] much harder to understand so underwriters either need software to help make decisions or they need to seek advice from a consultant first."

As IP is so valuable it is incumbent upon rights holders to protect their assets. Bobo says that in his experience, companies use a number of different approaches for tackling this. "Some have trade secrets (such as the Coca-Cola formula), others insist that everything is patented and the use of copyright is another approach." "However," Bobo adds – interestingly – "some firms don't like using patents as it's a public declaration of where the company is going with its technology. They only patent when a prototype is ready." Part of the issue here is one of the cost of patent registration and that's why smaller IP holders may be forced to follow the NDA route.

"Some firms will keep rights and inventions confidential on the basis that competitors can and will reverse engineer a patent," Sidkin explains. "This means that companies take a view on the likelihood of infringement, the length of any patent granted and the cost and difficulty of gaining a patent." He suggests that a company such as Dyson could not operate without registering a patent. In the extreme, some firms have pulled out of trade shows and Sidkin says this is because "it's very hard to control who sees what's on offer – I've a client who's taken that decision."

For the 'victims' of fakers, the penalties of losing can be stiff. Consider the three-year court case where Rolex took protection – in Europe at least – in a different direction. In Martin Blomqvist v Rolex SA, Manufacture des Montres Rolex SA, Rolex sought to have a watch that was imported via an online purchase from China by a Dane, Blomqvist, destroyed. The move followed Danish customs seizure of the watch on the basis that it was a fake. The case made it to the Court of Justice of the European Union which decided in February 2014 that Customs could destroy seized fake products. This principled stand by Blomqvist would not have been cheap.

Moving on, Bailey says the protection process needs to start with the firm identifying what IP they already have, where it sits in the corporate structure and its status – is it still valid? By doing this, she says that the business may identify issues such as a failure to renew a trademark or put the mark to genuine use for five years. "Frequently, we find that in businesses that have expanded quickly, there is a lack of clarity around what IP is owned by the company and where it sits. If a business has used a consultant to create IP – has it been properly assigned to the company?"

Next she advises that businesses identify what potential IP it has that needs protecting, and where the business is operating or planning to operate in order to consider where its IP should be protected. This means involving all relevant functions including research and product development, marketing and the commercial team. Does the business use word marks or slogans in unregistered form that should be registered as trademarks? Are there any domain names that need to be registered before a new product launch to avoid a third party registering them? Can the design of packaging for the product or a device mark be protected by a registered design?

Fighting battles in any court case is expensive and for IP, can be stratospheric. In his 2010 report on civil litigation reforms, Lord Justice Jackson found that the costs incurred (adjusted for inflation) in 15 large IP disputes between 1999 and 2007, up to first instance judgement or settlement, ranged from £196,957 to £1,540,933, with an average cost per case of £696,742. Firms with multi-billion turnovers may see a £10 million legal bill as a drop in the ocean, but those that for others the cost of litigation could be prohibitive.

The result, says Bailey, is that "businesses should pick their battles. They should identify their key IP and their key markets, and focus their attention on stopping infringements of this IP in the key territories. Before any pursuit, the business must look internally to make sure their IP is sufficiently protected." This is because a common tactic in IP disputes is for the company being challenged to seek to argue that the IP of the company raising the dispute is invalid or should be revoked.

And as with other forms of litigation it makes no sense, as the phrase goes, to sue a "man of straw." This is why Bailey recommends firms use all available tools to identify who the infringer is – "if the intention is to bring infringement proceedings, are they so small that it is very unlikely to be able to afford any remedy awarded? Where are they are based? This will impact upon your ability to enforce any decision or communicate with them."

Companies with good cases wanting to take action against infringers who previously could not justify the cost and uncertainty of doing so can now consider utilising third party funding as a result of the Jackson reforms introduced in April 2013. This has the potential of sending a message to infringers that court action will be taken by the company and can help to free up company balance sheets for other things, such as proactive IP protection.

It will be interesting to see what the appetite of third party funders is to take on IP claims will be and how far this avenue is explored by IP-rich organisations.


Download this article as a PDF

Contact the editor
Related Articles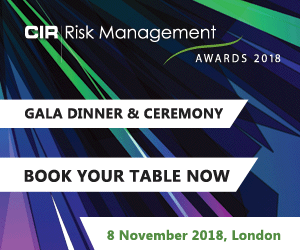 Download the latest
digital edition of
CIR Magazine
Power transmission and distribution risk
Description
Mark Evans talks to Barry Menzies, head of MIDEL ester-based dielectric fluids, at specialist manufacturer M&I Materials, to discover how ester fluids can help reduce the risks associated with transformer applications.
Most read stories...