West Pacific Typhoon activity hits a high in October
Written by staff reporter
2013-10-16
October 2013 has been remarkably active for typhoon activity in the West Pacific. In this month alone the region has so far seen the formation of six tropical storms, four of which have reached typhoon status (Typhoons Fitow, Danas, Nari and Wipha). Typically in the West Pacific, October will produce an average of just four named storms. 1984 produced the highest number of October storms recorded for the West Pacific – with eight from a total of 27 named storms during that year. So far, 2013 has produced 25 named storms to date, with more than two months still to go.

Research undertaken by RMS scientists on extra-tropical storms in Japan concludes that many Japanese storms have their strongest winds on the left-hand side – this goes against the common theory that storms in the northern hemisphere have the strongest winds on the right-hand side. Typhoon Wipha, which is currently tracking past Japan with its left-hand side closest to land, is a very large storm that has been undergoing extra-tropical transition – bringing its stronger winds and heavier rains on the left-hand side, close to land. The typhoon has skirted past the south eastern tip of Tokyo's Chiba Prefecture, only 22 mi (35 km) from the coastline and 70 mi (110kn) southeast of Tokyo impacting a very large area of Japan's southern coast with strong winds and heavy rainfall, although just far enough away to avoid major damage.

As Typhoon Wipha impacts Japan, China, the Philippines and Vietnam are still recovering from the impacts of Typhoon Fitow (China) and Typhoon Nari (Philippines and Vietnam) from earlier this week. Typhoon Fitow made landfall in Fujian Province in China on October 6 followed by Typhoon Nari making landfall in the Philippines on October 11 and Vietnam on October 15. Each country has experienced severe flooding in major cities, including Shanghai in China and Da Nang in Vietnam where heavy damage to property and infrastructure has been reported. These weather-related catastrophic events continue to emphasize that flooding is often the primary driver of insured losses from storms in these countries. In China, the top five heaviest rainfall events on record are all associated with tropical cyclones, and flooding was the predominant driver of insured losses.

Current environmental conditions over the Philippines Sea, including warm sea surface temperatures of around 30°C coupled with very low vertical windshear, are particularly favourable for tropical cyclone formation and intensification at the moment. These conditions are ideal to allow tropical storm 26, the next tropical storm which formed on October 16, to intensify as it moves north westwards and become the fifth typhoon of October 2013. Tropical storm 26 is currently located over the Philippines Sea.

Until this month, the West Pacific Typhoon season as a whole has not been particularly active. Between January and September inclusive there have been 21 storms observed which is just slightly higher than the average of 18.9 (1945-2012) with slightly less storms than average making it to Typhoon status.
Related Articles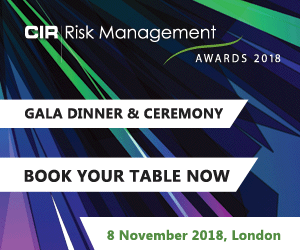 Download the latest
digital edition of
CIR Magazine
Power transmission and distribution risk
Description
Mark Evans talks to Barry Menzies, head of MIDEL ester-based dielectric fluids, at specialist manufacturer M&I Materials, to discover how ester fluids can help reduce the risks associated with transformer applications.
Most read stories...