UK well placed to overcome global risks: Maplecroft
Written by staff reporter
2013-02-07
Increasing security risks from militant Islamists, exacerbated by poor governance and a burgeoning cross-border illicit economy have been identified by risk analysis firm Maplecroft as the key factors in West Africa experiencing the highest regional increase in risks to investors.

According to Maplecroft's Global Risks Atlas 2013, which evaluates 179 countries across 36 risk issues, a deteriorating operating environment for foreign business and investors is evolving across a large swathe of West Africa, with immediate implications for neighbouring countries in North Africa.

The 'high risk' countries of Cote d'Ivoire (9th most at risk), Guinea (20th), Guinea-Bissau (24th), Senegal (33rd), Mauritania (34th), Sierra Leone (41st), Gambia (49th) and Togo (50th) have all significantly increased in risk. However, due to the ongoing conflict with Islamic militants in the north of the country and the instability of its government, Mali (30th) saw the largest increase in risk in the region, while globally only Syria (10th) and Libya (19th) saw a greater surge of risk.

"Global risks don't respect borders and have major regional impacts on countries and business alike," states Maplecroft's CEO Alyson Warhurst. "Not only do we look at the areas of macroeconomic risk, security, resource security, climate change and infectious diseases; we also evaluate governance and societal resilience to measure how prepared nations are to address risks that are mostly out of their control."

Maplecroft states that the vast majority of West African nations have very low levels of resilience to global risks, leaving them particularly vulnerable to external shocks. With the exception of Ghana and Cape Verde, which are ranked as 'medium risk' in the Global Risks Resilience Index, all others are classified as 'high risk' apart from Cote d'Ivoire, which is rated 'extreme risk.' With such poor resilience, these countries are not well placed to deal with external shocks, increasing the possibility of a cascade effect of risk.

The interconnection of risk is epitomised by Mali. A declining security environment from the ongoing conflict has in turn undermined the country's investment climate; increased the risk of resource insecurity; reduced the capacity to deal with diseases; enlarged the illicit economy; and reduced regime stability – factors that further undermine resilience and adaptive capacity. The recent attack on the In Amenas gas plant in Algeria (55th and high risk) illustrates that Mali, itself a victim of the conflict in Libya due to the influx of weapons and Islamic fighters in late 2011, is now a source of cross-border risks, given its role as a base for the attackers.

Political turmoil in West Africa, such as the 2010/2011 violence in Cote d'Ivoire and the 2012 coup in Guinea-Bissau, has also reduced region-wide governance and has the potential to hit economic growth and foreign investors. Maplecroft highlights the decline in governance as a key catalyst in the growth of the illicit economy in the region. Political turmoil has enabled the expansion of cocaine trafficking in West Africa. This development has security implications for West Africa and beyond, as it contributes to the growing threat of political violence and Islamist militancy by providing an additional source of funding for insurgencies and terrorist groups.

The global risk profile of West Africa's biggest economy, Nigeria, meanwhile, has remained consistently high, with the country ranked 15th most at risk in the Global Risk Atlas. However, its flourishing economy belies the ongoing rise of militant Islamist group Boko Haram, which has contributed to a significant increase in the country's rating on the Security Risk Index, for which it is categorised as 'extreme risk.'

Investors should however be buoyed by the improving risk profiles of some of the world's most important growth economies. In Maplecroft's Macroeconomic Risk Index, Poland (173rd), Philippines (171st), Bangladesh (170th), Colombia (161st) and Russia (145th), have all seen significant decreases in risk. South Korea is the best performing country across the macroeconomic environment, economic diversification and fiscal risk. Both South Korea and Poland also demonstrate high levels of resilience to global risks, ensuring they are able to quickly adapt to their impacts, thereby providing welcome insulation to potential investments.

Despite its economic problems, the UK has also seen a good improvement in the Global Risks Atlas. The country has moved from the 'medium' to 'low risk' and up from 140th most at risk in 2012 to 157th. This is predominantly due to decreasing risk in Maplecroft's Security Risk Index, as a result of a decline in successful attacks by republican terrorist organisations in Northern Ireland. The UK's ranking of 163rd in the Global Risks Resilience Index, however, demonstrates that it is well placed to overcome global risks.

At the other end of the index, six countries are rated at 'extreme risk' due to their vulnerability to global risks: Somalia (1), Sudan (2), DR Congo (3), Afghanistan (4), South Sudan (5) and Central African Republic (6), while Myanmar (7), Pakistan (8), Cote d'Ivoire (9) and Syria (10), complete the ten highest risk countries.
Related Articles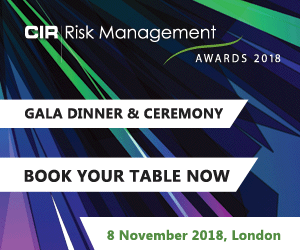 Download the latest
digital edition of
CIR Magazine
Power transmission and distribution risk
Description
Mark Evans talks to Barry Menzies, head of MIDEL ester-based dielectric fluids, at specialist manufacturer M&I Materials, to discover how ester fluids can help reduce the risks associated with transformer applications.
Most read stories...