SunGard launches new replication offering
Written by Editor, CIR
2010-10-14
SunGard Availability Services has launched Replication-as-a-Service (RaaS), which replicates data in a secure private cloud environment, which is linked into its recovery network. The business continuity service provider believes that RaaS could save customers about 35% as compared to the organisation's cost of procuring traditional in-house storage and replication processes.

Replication is fast becoming a priority for organisations that need immediate availability of key data in the event of a network failure. Yet many organisations struggle with the cost and complexity of replicating their data, which is typically stored in multiple storage devices from different vendors.

With RaaS delivered as a service, organisations can provision replication on a 'pay-as-you-grow' basis, meaning minimal capital expenditure and the ability to scale up or down as an organisation's need changes. SunGard is offering a complete replication service across multiple vendor storage devices, so organisations need not replace their existing Storage Area Networks (SANs) or pay for additional hardware and maintenance.

RaaS also provides UK customers the benefit of a replication service offering that can be linked directly into a recovery solution. By taking a snapshot of the customer data at the time of an outage, the new service aims to enable the quick recovery of all replicated data.

"Having immediate availability of vital data in the event of network failure is crucial, yet many organisations have been unable to swallow the investment needed to develop a robust replication solution," commented Keith Tilley, managing director UK and executive vice-president, Europe, SunGard Availability Services.

"SunGard's Replication-as-a-Service opens up replication to many more organisations by eliminating the financial burden of purchasing additional hardware, along with the costs and specialist skills required for maintenance."

"The need to ensure that data can be recovered quickly and cost effectively is challenging organisations of all sizes, especially when securing all copies of sensitive information is taken into account", said Tony Lock, programme director, Freeform Dynamics. "Data protection and the recovery of information demand operational processes that work well and do not interfere with day-to-day business. The use of sophisticated solutions such as data replication and CDP are growing, but IT professionals are looking for examples of best practice to adopt. Managed services based on tested processes will be of interest to many organisations."

Tilley continued, "Employing a fully-managed replication service from SunGard means organisations can benefit from the savings of a shared environment as well as the resilient, secure infrastructure on which SunGard has built its business over the past 30 years.

The service starts with the installation of a replication core at the customer's site, which is linked to another replication core at a secure SunGard facility, where the data is then replicated within the SunGard SAN private cloud environment. Asynchronous replication takes place 24/7 and is completely managed by SunGard personnel.

At time of disaster recovery, a snapshot of the customer data is taken which is then fed into the SunGard recovery network where it is connected to the recovery servers. Once this goes live, data can still be backed up using the customer's backup solution. Replication can be easily maintained by making the SunGard site the primary data store and the customer site the failover store. Once a stable environment has been created at the customer site, servers can be restored back as groups or individually, reducing any disruption and maintaining replication throughout the recovery process.
Related Articles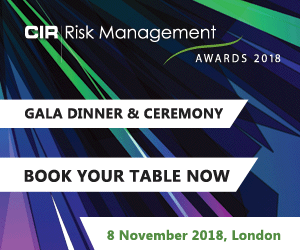 Download the latest
digital edition of
CIR Magazine
Power transmission and distribution risk
Description
Mark Evans talks to Barry Menzies, head of MIDEL ester-based dielectric fluids, at specialist manufacturer M&I Materials, to discover how ester fluids can help reduce the risks associated with transformer applications.
Most read stories...