Pool Re announces changes
Written by Mark Evans
2015-11-20
Pool Re has today announced changes to its reinsurance arrangements with its members (insurers and Lloyd's Syndicates) now taking a greater retention in the event of a terrorism loss. Since 2006, the industry retention for any one event has remained at £100 million. From 1 January 2016, the retention will increase to £135 million any one event but capped at an annual aggregate of £270m any year.

The initiative is in keeping with one of Pool Re's key objectives, namely to facilitate the return of a normalised UK terrorism insurance market over time. The move will also increase the resilience of the Pool Re scheme and further move the UK Government and the taxpayer further from potential liability.

Steve Coates, Chief Underwriting Officer, Pool Re, said: "Our continued goal is to re-engage global capacity in the provision of terrorism cover in Great Britain. This process started with the purchase of retrocession cover from global re-insurers in March this year, which saw significant aggregated cover provided in Great Britain for the first time since 1992. Given the industry retention had been unaltered since 2006, there seemed to be scope to return more of the risk to the local market. We will continue to examine ways to secure more capacity from insurers and re-insurers, so as to increase scheme resilience and ensure that Pool Re only provides capacity that the market is unable to."

The Pool Re scheme was set up in 1993 in the wake of the IRA bombing campaign. The Scheme, which is recognised as a leading example of public/private partnership, is owned by its members but is underpinned by a HM Treasury support. Pool Re pays a premium to Government for this guarantee and would repay the money over time if it ever used this facility. However, in the event of a loss resulting from an act of terrorism, each member must first pay losses up to a threshold, which is determined individually for that insurer. When losses exceed that threshold, the insurer can claim upon Pool Re's reserves, which now stand at approximately £5.5billion. These reserves have been accumulated by the members of Pool Re since its inception. It is only in the event that these reserves are exhausted that Pool Re would require Government support.
Related Articles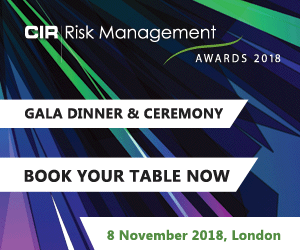 Download the latest
digital edition of
CIR Magazine
Power transmission and distribution risk
Description
Mark Evans talks to Barry Menzies, head of MIDEL ester-based dielectric fluids, at specialist manufacturer M&I Materials, to discover how ester fluids can help reduce the risks associated with transformer applications.
Most read stories...