Murky waters?
Written by Jon Guy
December 2010
Last month's floods in Cornwall served to highlight the already thorny issue of flood defences, a key concern for insurers and underwriters following the Comprehensive Spending Review. Jon Guy writes

The Government's Comprehensive Spending Review has certainly lived up to its name. This thorough examination of where expenditure can be pared back, from child maintenance to council housing, wields the axe with controversial gusto. For insurers, the key area of concern revolves around safety for both homes and businesses.

As such, the decision to reduce spending on flood defences has been the overriding concern for underwriters and brokers.

Flood defences have long been a thorny issue between the Government and the insurance industry. At present there is a rolling moratorium, due to be renewed in three years, which means that homes and business premises which are currently covered by flood insurance will continue to have cover offered, although the price remains very much down to perceived risk and claims history.

Where the flood waters get slightly murkier is around the topic of newly built properties – particularly those on flood plains. Insurers have lobbied Government for some time to seek to highlight to local planning authorities the inherent dangers of building in areas which are prone to flooding. Indeed, the industry has made it quite clear that it will reserve the right to offer flood protection to new properties in areas where it deems the flood defences to be insufficient.

Given the decision to effectively cut spending on flood defences, it is little surprise insurers have not welcomed the CSR with open arms. The Association of British Insurers (ABI) believes the flood issue remains the industry's major disappointment when it comes to the cuts, although the hope remains that when the economy recovers, spending on flood defences might be put back on the agenda.

"While the Comprehensive Spending Review was a broad-ranging document, our biggest concern was the decision taken over the spending on flood defences," says ABI spokesman Malcolm Tarling. "It was disappointing to see that the spending has gone from the previously announced £2.15 billion over three years to a figure of £2 billion over four years.

"It is not the decision we would have liked, given that both the ABI and Department of Environment Food and Rural Affairs (Defra) had made representations to the government over the need for adequate flood defence finance," he adds.

He says the ABI had hoped that the level of spending would at least have been maintained, given their recommendation over the inadequacy of flood defences. But with the economic issues and deficit that this country faces, Government spending needed to be addressed and flood defences are not going to be considered as immune.

"When the economy recovers we are hopeful that the Government will recognise the importance and the significant financial benefits which come with the investment in flood defence for the country," adds Tarling.

There are some positives, though. Defra's recent announcement that local communities will have a greater role to play in the decisions over flood defences is a step in the right direction. Defra and the Environment Agency have published a consultation document on a new national flood management strategy which aims to allow greater local involvement in planning and prioritising flood defences. Announcing the new rules, environment secretary Caroline Spelman comments: "Last month in Cornwall I saw for myself the devastating impact of flooding on families and businesses alike.

"With more extreme weather patterns predicted in the future, this new strategy will give communities and businesses more power to influence how they are protected, because local involvement means plans and funding can be specifically prioritised and tailored."

Lord Chris Smith, Environment Agency chairman, notes: "It is essential that communities, businesses, local authorities, the Environment Agency and Government work together to reduce the risk of flooding and coastal erosion to people, property and the environment."

At the same time, proposals to change the system for allocating money for flood defences have been published, with Defra saying a proposed new funding criteria, meaning that more flood defence schemes benefit from some level of Government funding.

Interestingly the plans provide the opportunity for private funding to aid the cost of flood defence. Those who will directly benefit from the schemes, such as local businesses and community groups, will have the opportunity for further voluntary investment. Spelman explains: "The old rules mean that a scheme that doesn't qualify for total Government investment gets pushed to the back of the queue and sometimes never gets built.

"This new approach means that more schemes will be able to go ahead. By encouraging additional investment from a wider range of local organisations and businesses, local ambitions for flood protection will no longer be held back by national budgets."

The new approach responds to Sir Michael Pitt's findings in his review of the 2007 floods that central Government cannot pay for all flood defence schemes. Government would therefore pay for a share of the benefits and outcomes that each project could achieve, as opposed to the full costs of fewer schemes under the current guidelines. Payments would be made based on the individual benefits of the schemes, such as for each household protected or value of economic benefits. This would mean schemes in rural areas would be judged on a level playing field with schemes in more densely populated areas.

Any private contributions to the cost of flood defences will be entirely voluntary and communities at most risk of flooding will still be prioritised for Government funding. ABI chairman Tim Breedon says: "We warmly welcome the new strategic approach for managing flood risk that the Government has published today, and we are encouraged by the focus on empowering local communities to make decisions about flood defences.

"The ABI has long argued for the need to take a long term approach to this issue. We are looking forward to engaging with the consultation and working together with government to tackle flood risk for the benefit of homeowners, businesses and communities up and down the country."

There are still fears, however, that the cut in spending will have a major impact on the appetite of insurers to offer flood cover. Steve Foulsham, technical services manager at the British Insurance Brokers' Association (Biba) says: "The result of the CSR and the decision on flood defence spending is a definite backwards step. You do not have to do the maths to see the problem."

Biba has "serious concerns" over the availability of flood insurance after 2013 when the current statement of principals between the Government and the ABI ends. A workable solution is vital now. At present, the UK is in the unique situation where any property and contents insurance policy contains a flood insurance coverage unless it is specifically excluded.

"The system is different in terms of being part and parcel of the property cover. In the rest of Europe flood insurance is a specific product to be bought separately," says Foulsham. "If we were to lose it would be a real shame and, once lost, the expectation is that it will be lost forever.

"It may well be that we need to look at how we can build flood resistance into new properties and incentivise current property owners to install flood preventative or risk mitigation measures such as moving electrics and ensuring doors and windows are more robust against flood water."

Foulsham says current figures identify an estimated 2.9 million properties deemed to be at serious risk of surface water flooding and a further 2.5 million in danger of flooding from coastal and river waters. One significant step would be tighter planning laws, he says: "The fact remains that given the growing population the use of flood prone areas for building will be required but we need to ensure that the buildings are constructed with adequate flood defences."
Related Articles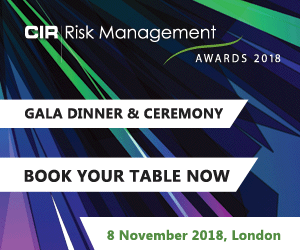 Download the latest
digital edition of
CIR Magazine
Power transmission and distribution risk
Description
Mark Evans talks to Barry Menzies, head of MIDEL ester-based dielectric fluids, at specialist manufacturer M&I Materials, to discover how ester fluids can help reduce the risks associated with transformer applications.
Most read stories...