ISACA: Geolocation risks misunderstood
Written by staff reporter
2011-09-28
Half of smartphone users globally access location-based applications such as Facebook, Groupon and Google Maps on their mobile devices, and that number is expected to grow significantly. But a new ISACA white paper cautions that regulating the use of geolocation data is still in its infancy, and that users should be aware of the information they are sharing and enterprises must act now to protect themselves and the information they provide, collect and use.

Geolocation uses data acquired from a computer or mobile device to identify a physical location. Applications using this technology offer consumers greater convenience, discounted prices and easy information sharing, and enable enterprises to deliver more personalized customer service and offers. But as geolocation services become more common, the need for data management and enterprise controls increases significantly.

As ISACA's new white paper, Geolocation: Risk, Issues and Strategies, points out, malicious use of geolocation data can put both an individual and an enterprise at risk. When a person's personal information, such as gender, race, occupation and financial history, is combined with information from a GPS and geolocation tags, the data can be used by criminals to identify an individual's present or future location. This raises the potential of threats ranging from burglary and theft to stalking and kidnapping.

"Geolocation is becoming more and more a real source of commercial and financial benefits for organisations, but unfortunately as with any technology that becomes popular, geolocation becomes also more and more interesting for hackers, scammers and spammers," said Marc Vael, CISA, CISM, CGEIT, CISSP, chair of the Cloud Computing Task Force at ISACA. "That is why this ISACA white paper is right on time to bring an independent but constructive view on the risks and issues, as well as and strategies to follow in order to use geolocation in a sensible manner."

Marios Damianides, CISM, CISA, CA, CPA, past international president of ISACA and partner, Advisory Services, at Ernst & Young added that "As the number of geolocation users grows and the proliferation of mobile devices continues, the prospect of individual or enterprise information becoming available to hackers or other unauthorized users is a significant concern," said. "We need policies that will establish 'privacy by design' to instill trust across the enterprise and guard against malicious use of location information."

In the US, regulators now are moving to enact rules regarding how companies can use geolocation data. Current US legislation proposed by Sens. Al Franken (D-Minn) and Richard Blumenthal (D-CT) would restrict whether companies can store individual location data obtained from mobile devices, and a proposed amendment to the Children's Online Privacy Protection Act (COPPA) from the US Federal Trade Commission addresses the collection of geolocation data from children under age 13.

"In Europe, regulators are aware of such concerns and are referring to the existing data privacy legislation for rules regarding how companies can use geolocation data from individuals (independent the age), customers and employees since this is also considered as personal data," said Ramsés Gallego, member of ISACA's Guidance and Practices Committee and security strategist at Quest Software. "All principles and rules from the European data privacy law remain valid, such as proportionality, purpose limitation, transparency and security. In the transportation sector, for example, this topic is already taken care of for properly managing geolocation data captured and monitored from truck drivers and taxi drivers. "

"EU regulators are focused on how you collect the data and for what use. The goal of the legislation is the process and answering the following questions: what data is collected, when, how, what for, for which period of time, etc," continues Vael. "Geolocation data is no different than other personal data and any personal identifiable information (PII) needs to have a purpose and limitation."

Collecting and using geolocation data pose risk to the enterprise, including:

•Privacy: Geo-tagging is implemented by users, but there may be multiple entities that have access to the data, including the service provider and wireless access points/developers. Users can't always identify (or aren't always aware of) the source or owner of their location data.
•Enterprise reputation: When breaches occur or policies have not been communicated clearly to customers, organisations risk negative perceptions of their brand.
•Compromise of sensitive information: The physical location of an enterprise and its remote facilities/equipment can be identified, increasing potential for loss of sensitive information through a variety of attacks.

"We live in a mobile world and geolocation is here to stay. It brings obvious benefits both to individuals and enterprises, but if not managed properly the associated risk will be substantial," said Ramsés Gallego. "It directly impacts individuals' and enterprises' privacy and confidentiality, and the consequences of poor governance over geolocation can be disastrous."

Steps for risk mitigation
•Implement technology safeguards, leveraging frameworks such as COBIT as guidelines for policy development.
•Regularly update the operating systems and software of work devices to ensure security improvements are quickly proliferated throughout the enterprise.
•Classify data, making the most sensitive data (personal, financial, client-sensitive or confidential) unreadable or inaccessible.
•Design a device management program that includes where the users connect, etc.
•Take into account the applicable legislation and regulations on privacy around the world, which differ by country.
•Implement an effective risk management policy that identifies where geolocation services add value and are to be utilized, and where they should be disabled. Geolocation should be part of an organization's risk profile.


ISACA advises people to follow a five-step "ROUTE" for informed use of geolocation services:

• Read mobile app agreements to see what information you are sharing.
• Only enable geolocation when the benefits outweigh the risk.
• Understand that others can track your current and past locations.
• Think before posting tagged photos to social media sites.
• Embrace the technology, and educate yourself and others.

"There are great consumer advantages of geolocation services, such as photos being tagged with the correct location or assisting you with directions to the location you are travelling. However, as with all technologies, individuals and enterprises must consider their risk tolerance level," said Robert Stroud, past international vice president of ISACA and vice president, Strategy and Innovation, at CA Technologies. "The fundamental issue at play is that many consumers are unaware of the risks. They need to educate themselves in order to make informed decisions."

For more information on geolocation risk, benefits and governance issues, download the free ISACA white paper from www.isaca.org/geolocation.
Related Articles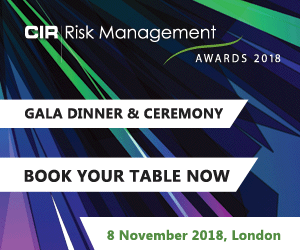 Download the latest
digital edition of
CIR Magazine
Power transmission and distribution risk
Description
Mark Evans talks to Barry Menzies, head of MIDEL ester-based dielectric fluids, at specialist manufacturer M&I Materials, to discover how ester fluids can help reduce the risks associated with transformer applications.
Most read stories...