RPC: FSA requirements bad timing for insurers
Written by Editor, CIR
2010-02-08
New FSA proposals to reform corporate governance for all financial services companies should be delayed for insurers so the sector doesn't have to undergo two major changes to corporate governance rules in two years, says law firm Reynolds Porter Chamberlain (RPC).

The FSA's proposals are likely to be imposed on all financial services companies at the end of this year and will be followed by another set of overlapping changes under Solvency II, a major piece of European regulation that insurers will have to implement by October 2012.

In their initial response to the consultation paper, Effective Corporate Governance, RPC points out that insurers will not be able to bring forward implementation of the Solvency II requirements to coincide with the FSA changes because the details of Solvency II rules will not be agreed until much later.

Jonathan Davies, partner at RPC, comments: "Being forced to undergo two major overhauls of corporate governance rules within two years is an unnecessary, expensive and distracting burden for insurers."

"The timing of the FSA's proposals is counterproductive because it is when corporate governance and control systems are being changed that mistakes are most likely to be made and things go wrong. By making insurers implement two separate sets of changes within a short space of time they will actually increase the risk of governance failures."

Jonathan Davies explains that the FSA's proposals follow recommendations from the Walker Review into corporate governance in the wake of the banking crisis.

Says Jonathan Davies, "The Walker Review's initial remit was to look solely at governance for banks, because bank governance was seen to be to blame for the credit crunch. The remit was later extended to include insurers. Now the insurance sector - which fared well during the credit crunch - is facing two major changes to corporate governance rules in quick succession."

"Amazingly the FSA's consultation document doesn't even make a single reference to Solvency II or the corporate governance reforms it will look at but clearly the FSA is aware of it."

The FSA proposals will widen the "approved persons" regime and increase the risk controls that banks and insurers will need to put in place.

Jonathan Davies adds: "Many of the FSA-proposed changes gold-plate the requirements likely to be imposed under Solvency II. The FSA should be conducting a cost-benefit analysis of how this will impact insurers before proposing to gold-plate a major piece of European regulation, rather than rushing through their own changes first."
Related Articles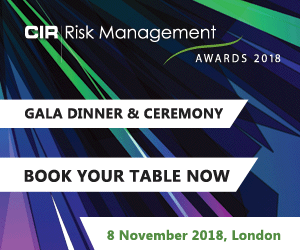 Download the latest
digital edition of
CIR Magazine
Power transmission and distribution risk
Description
Mark Evans talks to Barry Menzies, head of MIDEL ester-based dielectric fluids, at specialist manufacturer M&I Materials, to discover how ester fluids can help reduce the risks associated with transformer applications.
Most read stories...