Former AIG CEO joins Willis
Written by Editor, CIR
2010-09-08
Willis has appointed Martin J. Sullivan as deputy chairman of Willis Group Holdings plc and chairman and CEO of a new business unit, Willis Global Solutions, which will oversee brokerage and risk management advisory services for the firm's multinational and global accounts.

Sullivan will report to Joe Plumeri, chairman and CEO of Willis Group Holdings, and work closely with Grahame Millwater, Willis group president, to develop and manage a differentiated service proposition in the large account sector.

Willis Global Solutions will be a unit of Willis Global, the chairman and CEO of which will be Grahame Millwater, who will also retain his current title as president of Willis Group Holdings. Willis Global will encompass Willis Global Solutions, and will also include Willis Re, Willis Global Specialties, Willis Global Markets, Willis Global Placement, Willis Facultative Reinsurance, Willis Capital Markets & Advisory, Willis Analytics and Faber & Dumas, which comprises many of Willis's wholesale businesses. Each unit will continue to operate under their current leadership teams.

Martin Sullivan, 56, began his career in insurance in 1970 and joined AIU, the non-life UK company of American International Group (AIG), in 1971. He joined the property department of AIU in 1974. In 1993, he was named president of AIU's UK/Ireland division and managing director of AIG Europe (UK) Ltd. He was elected senior vice-president, Foreign General Insurance in 1996 and executive vice-president, Foreign General in 1998. In 1996 he was appointed chief operating officer of AIU in New York and named president in 1997. He was elected to the board of AIG in May 2002. He served as CEO of AIG from 2005 to 2008.

Sullivan is an associate member of the Chartered Insurance Institute, a Fellow of the Institute of Leadership & Management and a Member of the Chartered Management Institute. He is also a former president of the Geneva Association and has served as chairman of the US-ASEAN Business Council and currently serves as chairman of the Business Advisory Committees of the St. George's Society and The British Memorial Garden Trust and is on the Board of Trustees of the American Associates of the Royal Academy Trust. He is also on the board of trustees of the Inner City Scholarship Fund. Sullivan was awarded the Order of the British Empire in 2007 and an honorary doctorate from Hofstra University.
Related Articles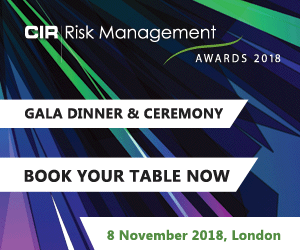 Download the latest
digital edition of
CIR Magazine
Power transmission and distribution risk
Description
Mark Evans talks to Barry Menzies, head of MIDEL ester-based dielectric fluids, at specialist manufacturer M&I Materials, to discover how ester fluids can help reduce the risks associated with transformer applications.
Most read stories...