Energy insurance market to soften in 2010
Written by Editor, CIR
2009-11-20
Increasing competitiveness among insurers and the highest level of capacity since the capital influx at the end of 2001 mean that energy firms are set to enjoy a softening insurance market in 2010.

So says risk adviser Marsh, whose latest Energy Market Monitor suggests that the energy sector can expect a downward rating trend across all classes next year as a result of market-shaping factors, such as a benign North Atlantic hurricane season to date that will, in view of the very high 2009 pricing for this peril, ensure significant profits for the insurance and reinsurance market; a general absence of significant losses from either man-made or natural catastrophe claims in 2009; increased competition for business, both from established players and new entrants to the market; deductibles continuing to be at an all time high, for example, 60 days for business interruption cover.

The risk adviser sees little sign of much flexibility in the marketplace; the very strong market discipline on deductibles brought in at the end of 2001 is continuing

Commenting on conditions, Andrew George, leader of Marsh's Energy Practice for Europe, the Middle East and Africa, said: "This time last year, the signs pointed to a near-certain hardening of the market as a result of significant losses in the first nine months of 2008, the losses from Hurricane Ike and the fear of credit default across much of the financial industry.

"The reduction of output and activity, together with shutdowns in the manufacturing sector, has led to a better risk profile in 2009. In addition, many buyers bought less insurance in 2009, which had a direct impact on capacity. For example, capacity for US casualty risks has increased by over 15% this year alone.

"Although the onshore and upstream property insurance markets have only experienced modest capacity increases, we expect this to grow in 2010. This is as a result of reduced demand from customers, which will make more capacity available, coupled with more insurers vying to secure a larger portion of this potentially lucrative business.

"Increased competition will also put downward pressure on rates, albeit at differing levels across energy insurance classes. Insurance buyers have good reason to feel more optimistic about their insurance spend in 2010.

"However, cheaper insurance pricing is no substitute for robust risk management. By having a more complete picture of the risks facing their organisations, energy companies can maximise the impact of these market trends and gain a competitive advantage as the economy recovers."
Related Articles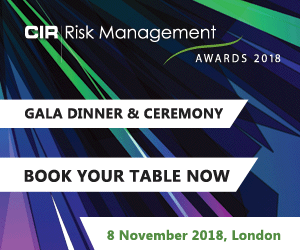 Download the latest
digital edition of
CIR Magazine
Power transmission and distribution risk
Description
Mark Evans talks to Barry Menzies, head of MIDEL ester-based dielectric fluids, at specialist manufacturer M&I Materials, to discover how ester fluids can help reduce the risks associated with transformer applications.
Most read stories...